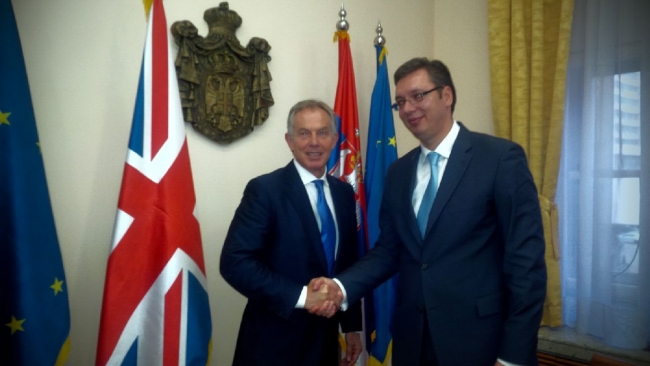 Belgrade, February 6, 2015/ Independent Balkan News Agency
By Milos Mitrovic
Serbian Government has engaged Tony Blair's consulting firm to create expert teams within Prime Minister Aleksandar Vucic's cabinet and all expenses will be covered by United Arab Emirates, a country which is becoming Serbia's important foreign partner, official sources confirmed to "Danas" daily.
The government has "purchased the prime ministers working model" from organization "Tony Blair Associates", established by former British premier. Tony Blair is a highly unpopular figure in Serbian public for his role in NATO aggression against Yugoslavia in 1999 and support to Kosovo's  unilaterally declared independence.
According to sources from Serbian government, expert teams would be formed in Vucic's cabinet with Blair's organization support in following areas: infrastructure, public enterprises privatization, direct foreign investments, state administration and agriculture. "Danas" reports that the representatives of the "Tony Blair Associates" will monitor expert teams creating and control their work while Serbian government will choose the stuff they will consist of.
Belgrade daily recalls that Blair is currently a consultant of Kazakhstan's Nursultan Nazarbayev and that he cooperates with the Albanian government. "He has been engaged as counselor in the governments of Egypt and Kuwait. Tony Blair gives lectures worldwide at the price up to USD 500,000 million", "Danas" underlines in its report.
"Last fall Tony Blair was in Belgrade and advised Vucic to apply this model in order investments and different projects to be implemented efficiently, taking into account that there are only four persons in Prime Minister's cabinet at this moment", a government source explained.
Last month Blair's media advisor Alastair Campbell gave a lecture to Serbian government's public relations officers, as a part of the program. The lecture was paid by the UAE and the European Union, government source said.
During Blair's visit to Belgrade in 2014, Vucic has strongly denied media accounts that former British PM would be appointed for his advisor explaining that the visit was unofficial and that they had discussed European integration issues and the creation the premier's cabinet. According to some reports, Vucic allegedly gave up the idea to engage Blair for his advisor due to the high cost of the arrangement.