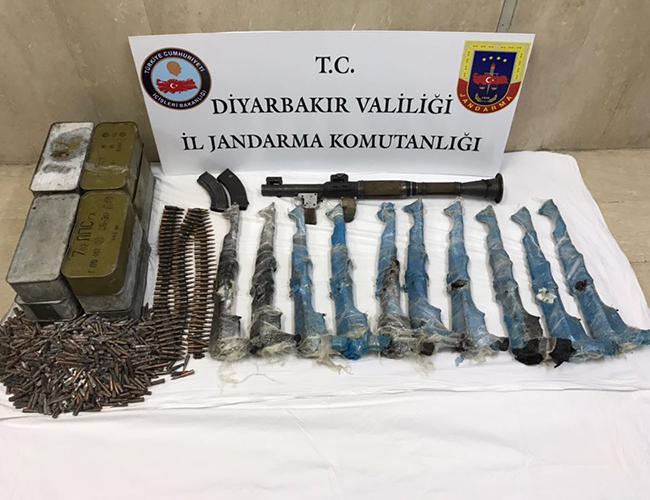 An official statement by the Turkish Interior ministry said that the country's "security forces have carried out 1,645 operations against PKK in the past week whereas on a nationwide scale, numbers are much bigger as "5,256 suspects – 1,291 terror suspects, 116 migrants and 3,849 drug trafficking and smuggling suspects" – have been brought into custody.
Especially in Diyarbakir, nearly 3 tons of explosives have been seized in an operation against PKK, along with 10 Kalashnikovs, one rocket launcher, 1,500 cartridges, 10-anti tank ammunition, one M15 mine, 10 grenades, ammonium nitrate in 66 packages which were discovered and seized in the wider area of the city.
As for the militants, 14 were "neutralised" according to the statement, meaning they were killed, wounded or captured "in counter-terrorism operations carried out in Turkey" within November 20-27.
Canikli condemns terrorist violence and vows to continue fighting such threats
The Turkish National Defence Minister Nurettin Canikli said on November 27 that his country will never tolerate terrorist threats, and will continue "taking all necessary measures against both the PKK and its Syrian affiliates, the Kurdish Democratic Union Party (PYD) and the People's Protection Units (YPG)", reports the English online version of Hurriyet.
The minister made the statements while in the Saudi capital Riyadh, where he attended an Islamic Military Counter Terrorism Coalition (IMCTC) Defence ministers' meeting.
Hurriyet reads that, Canikli said Muslims and Islamic countries suffer the most from instability and lack of security, citing the deadly November 24 mosque attack in Egypt's Sinai Peninsula, which left 305 people dead and scores injured.
"We strongly condemn the massacre that took place in Egypt," the Turkish official said, characterising the particular attack against innocent worshippers as "unimaginable."…/IBNA
Photo: Hurriyet Daily News