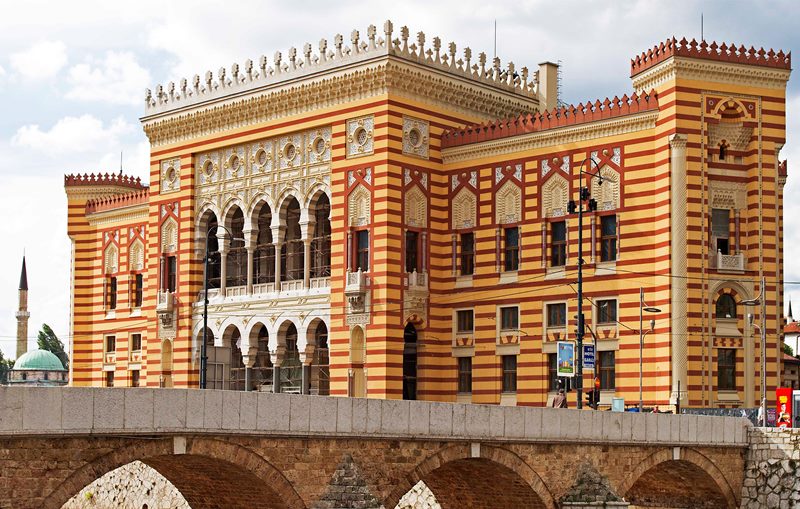 By Maja Tuljkovic – Sarajevo
In the night of 25 to 26 August a fire "swallowed" two million books and 300 manuscripts of great worth. Sarajevo Vijećnica (City Hall), the finest and most representative building of the Austro –Hungarian period was burned to the ground. The flame for several hours "swallowed" the National and University Library of B&H, a national treasure that had been carefully preserved and which was available to citizens for nearly half a century. Vijećnica was a symbol of the city of Sarajevo, proof of the interconnectedness of tradition and culture.
For several days now, the capital city of Bosnia and Herzegovina is filled with enthusiasm regarding the opening of the renovated Vijećnica. Vijećnica will open tonight, after 18 years, which was the time it took for its renovation and after 118 years since it opened its doors for the first time. The opening ceremony is symbolically announced on the day that is celebrated as European Day and Victory Day over Fascism.
The renovated Vijećnica has retained the authentic form of the interior and exterior that had from the beginning, with the total renovation costing 23 million BAM. The current renovation of Vijećnica has designed to be more functional, because among other things it will be used as a museum and as a national library. About 2000 square meters are foreseen for the library.
The opening ceremony of this international symbol of civilization will start at 17:30 with the first official reception of the Mayor prof. dr. Ivo Komšić at Vijećnica, where prizes and gifts will be awarded to donors as a sign of gratitude, who with their material support helped the renovation of this building during the last 18 years.
A rich cultural and artistic program is prepared for the citizens, which will be held at the open stage, in front of the building of Vijećnica. The Sarajevo philharmonic orchestra and many other soloists, dancers and musicians will perform and everything will be surrounded by a 3D video projection mapping of the Vijećnica building.
In addition, it has been announced that every person can contribute to this event in its own way. Personal emotional notes from the opening of this event, in the form of photos or video clips, can be shared through social networks. Specifically, USAID with the help of BH Telecom has enabled free wireless internet, in order that the image of Sarajevo Vijećnica to be spread to the world and to come to those who can not be in Sarajevo for the opening ceremony.
The renovated Vijećnica beauty is worthy of the admiration of the whole world.