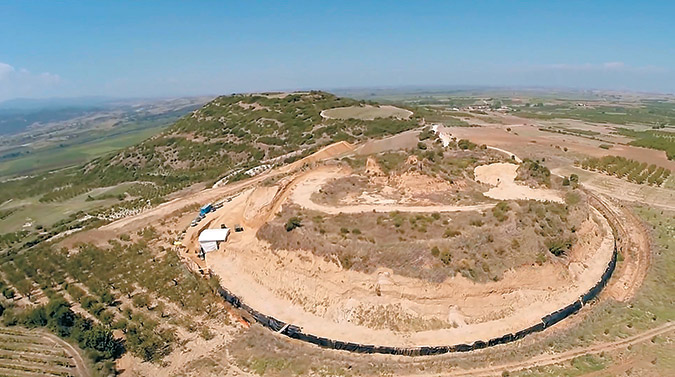 By Spiros Sideris – Athens
The excavations at the tomb of Amphipolis might be reaching a completed within the next ten days, give or go, but now starts another new great adventure which might lead to new buried secrets. That is, the next step will be the study of the entire monument, starting by "X-raying" the tomb of Kasta.
The purpose of the "X-ray" is to determine whether there are other graves in the tomb of Kasta or whether the one that is excavated now is the only one, but also to study the ways of intervention in the surroundings to better reveal the tomb.
The "X-raying" of the tomb will be done through geomagnetic or geophysical prospecting – a decision that will be taken at a meeting with the participation of specialists. The intention of the Ministry of Culture for this project is to work with the Aristotele University of Thessaloniki. If new excavations are needed, it will be decided by the Central Archaeological Council, which discusses the applications of systematic excavations.
On the hill of Kasta, apart from the Macedonian tomb that is already excavated, has been found at its top of a cemetery of the Iron Age, which was partially excavated by Dimitris Lazaridis.
Due to the size of the tomb (is twice that of Vergina in which were found several tombs), some archaeologists believe that it might be hiding other secrets. Either Macedonian or other tombs, close to the one currently excavated. Others, however, are more reserved, noting that perhaps the original intention was for other burials to take place there, but for some reason did not. So, this burial may prove to be the only one.
In the first phase, work will continue alongside the removal of the rubble in the artificial trench and the removals of the limestone slabs until the completion of the excavation.