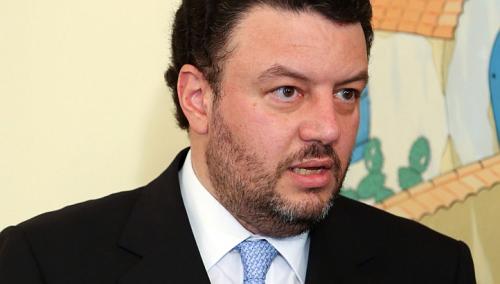 Review Hari Stefanatos
Cypriot Defence Minister Tasos Mitsopoulos, who passed away on Saturday aged 48, will be buried today, in his southern coastal town, Larnaca, which was his home town, at the church of St. George Kontou.
President of the Republic of Cyprus Nicos Anastasiades will deliver the eulogy at the funeral, while Greek Minister of National Defence Demetris Avramopoulos will represent the Greek government, Prime Minister Antonis Samaras and the Presidency of the Council of the EU to the funeral.
The Council of Ministers has declared a three – day mourning until Tuesday, during which the flags of the Republic of Cyprus will fly at half mast at all military camps and government offices. During the mourning, all official events have been cancelled and the members of the government and other state officials will not be attending any public events.
All doxologies and parades for Tuesday`s celebration of Greek Independence Day will take place as scheduled, as an honour for the deceased, the Council of Ministers decided.
Mitsopoulos died on Saturday, a day after suffering a ruptured cerebral aneurysm.
(Source CNA)