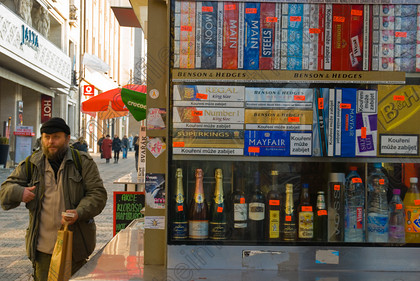 Skopje, June 7, 2013
A gradual rise in the price of alcoholic beverages and tobacco is expected in FYR Macedonia and this will be a burden in the consumers' pockets.
The rise of prices is made through excises, which is a higher tax applied on the consumption of a particular category of goods.
The government has warned that there will soon be an increase in the prices of this category of goods, but such news has not been welcomed by consumers.
From 3 denar, the excise on beer will be 4 denar per liter, whereas on other alcoholic beverages, 300 to 340 denar (around 5 Euros) per liter. As far as cigarettes and other tobacco products are concerned, there will be a gradual increase in the next 10 years, but the amount of increase has not been determined yet. The government claims that this increase will be made to reduce the consumption of these products and to protect the health of consumers.
"With this measure, there will be a harmonization of a part of the excise with the recommendations of the European Union, but given that the standards of FYROM do not allow for a full harmonization to take place, we will make this increase gradually in order to have small effects for that category of consumers", said the Minister of Finance, Zoran Stavrevski.
But consumers say that this increase in prices will damage their budgets and that they will not be able to afford the new prices. "Should there be an increase of prices in order to reach EU levels, then many of these daily consumption goods will be a luxury to us", says Gazmend. R, a citizen from Skopje.
Consumers say that they are against these increases, which were also seen in the increase of the price of fuel. On the other hand, economy experts believe that these increases have been made to improve the state budget. /ibna/