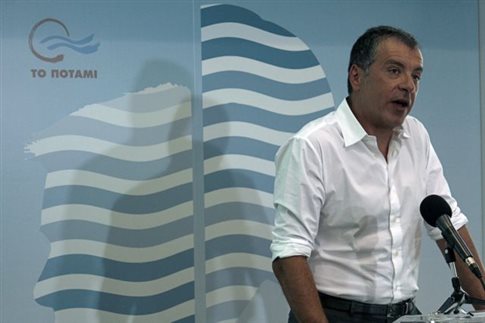 The parliamentary group of To Potami party held a meeting chaired by president Stavros Theodorakis on Thursday, to discuss its stance in the upcoming vote in parliament on the Prespes Agreement.
Arriving at party headquarters, Theodorakis told reporters: "We won't be saying 'no' to everything. We will think of the country's interest. We are not with the government, but we won't become monotonous naysayers […] We will do everything in our power to help the country, not necessarily our party, and this is a problem".
The party leader added: "We did very well in parliament [yesterday], despite the wound we nearly suffered by a sudden change. This was evident in the reaction of the people and our officials".
Following the meeting, it is expected that Theodorakis and MP Giorgos Mavrotas will support the Prespes Agreement, while MPs Giorgos Amiras and Grigoris Psarianos have stated their intention to vote against it. The remaining party MP, Spyros Lykoudis, appears to be undecided; nevertheless he has made clear he will not be voting against the deal.
Division within To Potami about the Prespes Agreement could have led to the disintegration of its parliamentary group, in the event that a single MP left the party in protest or was expelled. Therefore, the party was reportedly keen to show that it isn't split on the issue, while also not appearing to prop up the Tsipras administration.
As things stand, Thursday's meeting resulted in the decision not to break up the parliamentary group over the FYROM name issue. This is a significant decision for the government too as it is now expected to clinch the majority it desires to ratify the Prespes deal.
SKAI TV reported earlier that Theodorakis came under heavy criticism during the parliamentary group meeting over the way he is handling the entire affair. It is also thought that the party's MEPs pushed for the party to endorse the Prespes Agreement. In any case, MPs were told to vote according to their conscience./IBNA