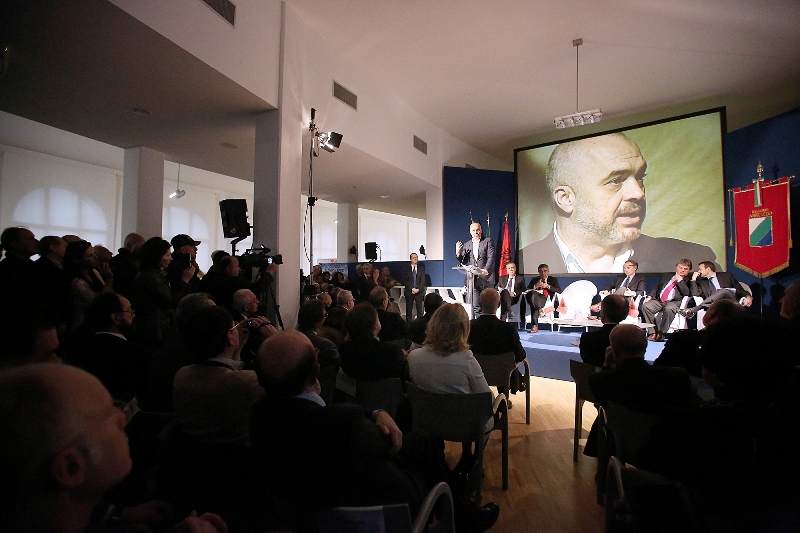 Tirana, March 30, 2015/Independent Balkan News Agency
The Adriatic-Ionian macro region is the plan that is becoming a greater and greater focus for several Balkan countries. Albanian authorities are trying to assume a primary role in this project, stressing that no solutions must be sought outside of Europe.
PM Edi Rama was in Italy on Sunday, where he spoke about the need of coordination and regional cooperation to face the challenges that Europe faces today.
"One of the biggest challenges of European policies and at the same time, one of the most important challenges of each of our countries is to convince our citizens that "More of Europe" and "Not less of Europe" is the main way to come out of this difficult situation that we're currently in", said Mr. Rama in the "Aurum" auditorium in Pescara, for the Adriatic-Ionian macro region and the European Union (photo).
According to him, "to seek a solution outside of Europe is the same as to seek a solution outside of history".
"Macro-regional strategies must be in line with national strategies. Our joint challenge must be the one of establishing a basis for projects based on a joint European vision, by making the citizens and the community protagonists of this process", he said.
The PM underlined that the macro-regional strategy is the right path to consolidate cooperation between the countries and to give way to the European dream for the countries that aspire to become EU members.
"I hope that the active phase of the macro-regional Adriatic-Ionian strategy realizes this dream of the 4 EU member countries and of the 4 non member countries. In a short term period, we're also hoping for Kosovo and Macedonia to become full part of the cooperation", said Mr. Rama.
The head of the Albanian government said that the macro-regional strategy is a new path to strengthen relations between the two neighboring countries, but also to strengthen a strategy of peace through economic and social cooperation.
The strategic macro-regional Adriatic-Ionian project is of a great interest not only for Albania and Italy, but also for the Balkan and European Union. /ibna/