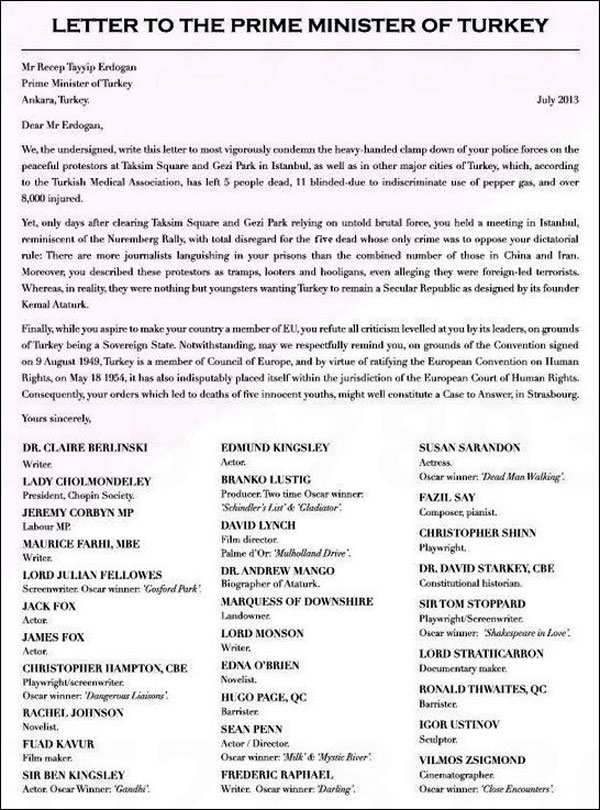 By Manolis Kostidis – Ankara
The Erdogan government has been shocked by an article publish in British newspaper The Times in which thirty artists accuse the government of showing a brutally violent face during the Gezi park episodes.
Amongst the artists that sign the article are names such as Sean Penn and Suzan Sarandon who liken the Turkish Prime Minister's rallies to those staged by the Nazis in Germany.
The letter which was addressed to Recep Tayyip Erdogan read: "We write this letter to strongly condemn the violent repression of peaceful protests which took place in Gezi park and other Turkish cities and during which 5 people died, 11 were blinded by tear gas and 8000 were injured, according to the Medical Association.
The artists say in their open letter that "there are more imprisoned journalists in Turkish jails than there are in China and Iran together. You called demonstrators looters and hooligans and maintained they are terrorists supported by foreigners. However, in reality these protestors were young people that requested Turkey remains a secular state just as Keman Ataturk had assured".
The signatories stress to Erdogan that "he ignored the death of 5 people he organized a rally in Istanbul that was similar to the Nuremberg rally"!
Those who signed the full page article argue that Turkey has recognized the jurisdiction of the court of human rights and remind Erdogan that "the commands that brought about the death of five innocent young people could be the basis of a court case in Strasbourg"
Erdogan advisor Yalcin Akdogan said "the letter is full of unjust accusations and allegations that are part of the campaign to misinform and deliberately distort reality".