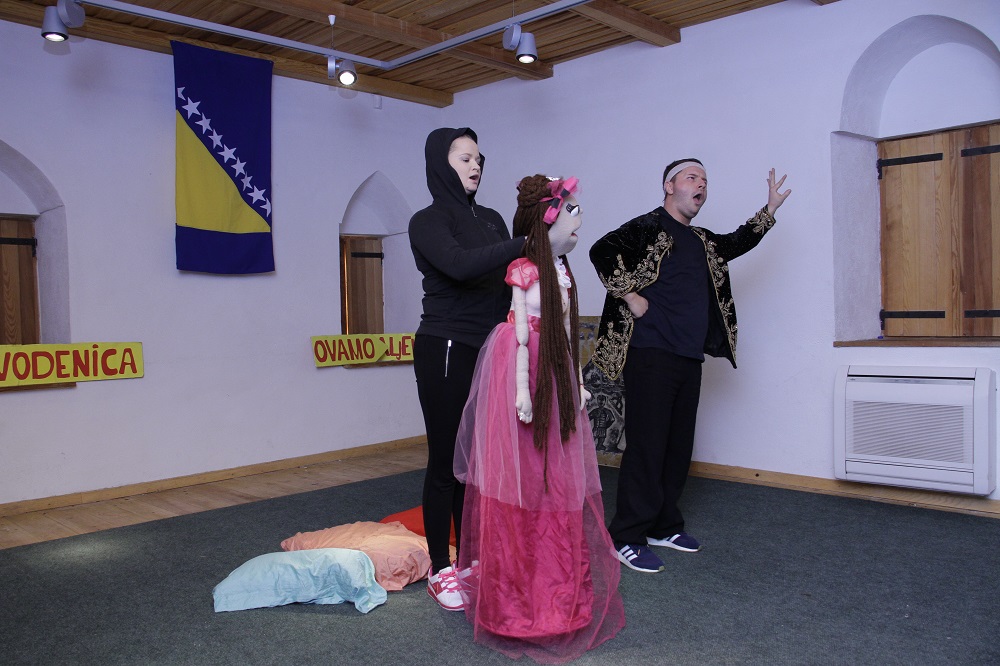 Pupils of First elementary school "Stolac" enjoyed a positive and dynamic theatre play about the trip of two best friends – Titiz, a very stingy person and Dzomet, a philanthropist. That was the first in a series of theatre plays that will take place in eight towns in Bosnia and Herzegovina, thanks to the support of European Union within the European Year of Cultural Heritage 2018.
"Titiz and Dzomet" is a traditional folk story of BiH adapted for stage and represents cultural heritage as it has gone through a transformation from an old storytelling practice to scripted story and then to a theatre play. The play was performed in the "Šarića house", a national monument of BIH which, along with several other objects in Stolac, was reconstructed back in 2012 within the EU-funded Ljubljana Process.
"Following the play all the present participated in a lively discussion about cultural heritage, its various forms and significance for our future. Schoolchildren demonstrated that for them this opportunity meant much more than just enjoying this very dynamic and interactive event. Some of them were dressed in traditional folk clothes while others created a large painting of "stećak" (medieval tombstone) which is in a way the symbol for Stolac", said EU Delegation to BiH in apress release.
Although both pupils and teachers complained that Stolac had no town museum of its own, they stated unanimously their whole town was "an open-air museum". Children emphasized that Stolac is extremely rich with material cultural heritage because they have, as one of the present girls said, "stećci protected by UNESCO, the water mills, Old Vidoški town, the ancient town of Daorson, the Šarića house, the old mosque…".
The European Union has declared 2018 as the European Year of Cultural Heritage and the year will see a series of initiatives and events across Europe to enable people to become closer to and more involved with their cultural heritage. Cultural heritage has a big role to play in building the future of Europe and this is why it is important to have young people participate in European Year of Cultural Heritage./IBNA