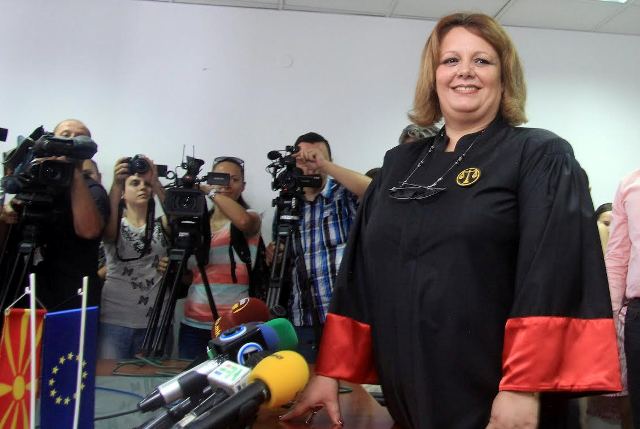 Skopje, 15 February 2016/Independent Balkan News Agency
By Naser Pajaziti
Political situation in Skopje has been aggravated after the Special Prosecution has decided to indict former ministers and other officials for electoral rigging in the last polls taken place in FYR Macedonia.
Part of the indictments are former Interior Minister, Gordana Jankulovska and former minister of Transport, Mile Janakievski, mayor of Pustec in Albania, Edmond Themelko, but also 6 other state officials.
During the weekend, they appeared at court to offer their testimonies, but the Court of First Instance in Skopje did not remand them under custody, as the Prosecution had asked.
Meanwhile, the court decided that Themelko must appear every week at the Court of Resen in FYROM, where he has a home, besides the one in Pustec, Albania.
But the Special Prosecution has reacted against the Special Prosecution, which has appealed at once. The prosecution deems this decision to be unfair and that it is expecting this decision to be amended.
Meanwhile, another five suspects, among which the former minister of Interior, Gordana Jankulovska, must appear in court today. Among the defendants there's also an official of the Albanian party in power BDI for electoral rigging in the commune of Cair in Skopje.
"Titanic" case relates to the irregularities registered during the last elections in the country and the misuse of financial means to fund the electoral campaign.
Political parties have reacted on the first indictments made by the Special Prosecution.
VMRO-DPMNE has rejected the indictments made by the Special Prosecution.
"We will not support the unlawful and unconstitutional actions. Every institution must act based on the powers given", reacted VMRO-DPMNE.
This party accused the Special Prosecution of being linked to SDSM and that the professional of this institution has been ruined.
Vice chairman of SDSM, Damjan Mancevski said that the Special Proseuction must be supported as it is an institution created with the consensus of all largest parties n the country.
"We strongly support the work of the Special Prosecution and we call on other political parties to do the same thing", Mancevski said.
Other political parties have also backed the Special Prosecution and its investigations.
The Special Prosecution was established with the June 2 political agreement as a request of the opposition to investigate the wiretapping affair. /ibna/