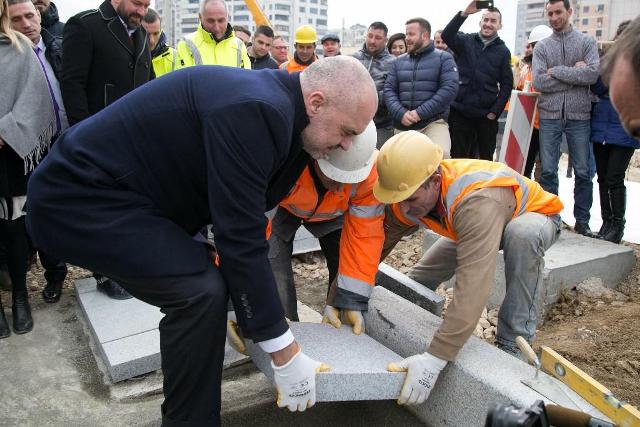 Tirana's administrative center will change. This is an important step, because all high state institutions will be moved.
The mayor of Tirana, Erion Veliaj said today that the new administrative center will be moved to the new Boulevard of Tirana.
In today's ceremony of the construction works for this boulevard, which is progressing fast, Mr. Veliaj considered the project as the new pole of modern Tirana of 2030.
According to him, this area will host the ministries, embassies and other important institutions
The Municipality of Tirana will also be moved to this area. Also, the majority of embassies have demanded to move to the new boulevard.
For PM Edi Rama, Tirana has lost a lot of time, at least from 2003 when the project was made.  He criticized the fact that Tirana is the only capital of Europe which doesn't have a square for its residents.
"Tirana could have had this boulevard today, Scanderbeg square. Today, in 2017, it would not be a capital which has not yet managed to incarnated a vision of 87 years ago, when to visionary architects, called by King Zog, projected this fantastic and unique segment that makes Tirana special and which offers the necessary conditions for a healthy development", Mr. Rama said.
According to him, this long delay has come for political reasons. "Tirana will soon have its square. It is absurd! It is the only capital without a square in Europe. Unfortunately, it is also the only city in Albania which is building its square", Mr. Rama said.
Meanwhile, the opposition has a different opinion on the delay of the works for the new boulevard. Its leader and former mayor of Tirana, Lulzim Basha, has constantly accused the government and PM Rama directly of preventing the development of Tirana after it came into power in 2013.
In 2013, the left wing government stopped the works for the new boulevard of the municipality which at that time was led by Basha. Three years later, the works resumed, but with the changes made by the left wing in power. /balkaneu.com/