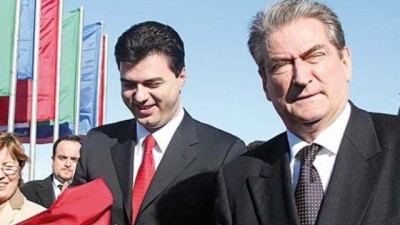 Tirana, May 14, 2013
The Mayor of Tirana, Lulezim Basha said today that the congested traffic of the capital will be significantly reduced with the new Traffic Control Center.
"This is one of the most modern traffic control centers in the region, a center which monitors circulation through CCTVs and controls traffic lights in all junctions of Tirana. We have also introduced traffic lights for pedestrians", said Basha.
"This investment comes in the framework of the efforts to solve one of the major problems in the capital, that of traffic, which was our priority since we took office in 2011. We're drastically transforming the city. We will make Tirana a modern and European city and for this we need the partnership of the government", said Basha amongst others, asking people to vote the Democratic Party on June 23.
On his part, Prime Minister Sali Berisha said that this project puts Tirana on the list of the most modern cities in the region and the world as far as traffic control is concerned.
"Only a few months ago, Tirana made news in the world. It ranked amongst the 20 most intelligent cities in the world, amongst those cities that offered the best high tech services for its residents. This inauguration is a big step in making high tech available for people. In my opinion, Tirana has seen serious changes in these two years. For many years, World Health Organization ranked Tirana as a very carcinogen capital. Pollution of air in the main square of the city was two or three times higher than the accepted rate. This rate no longer exists. The residents of this capital breath an air with the same rates of cleanliness as other environmentally friendly cities", said Berisha.
Premier Berisha also recalled the time when Edi Rama, head of the opposition, was mayor of Tirana.  According to Berisha, all the funds that were allocated for the city of Tirana, were misused.
Berisha said that "Albanians will move forward toward Europe, but we must do everything to progress with dignity and Tirana has all the possibilities to do this."
Prime Minister Berisha also promised that the government will support any major project in this city. /ibna/