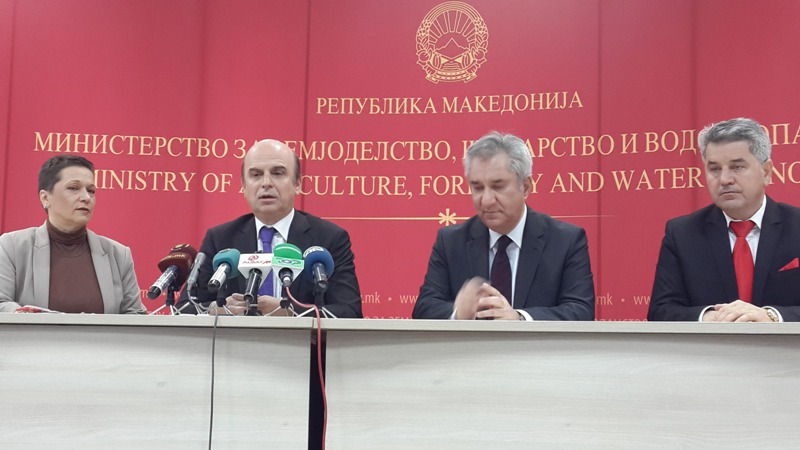 Tirana, December 17, 2013/ Balkan Independent News Agency
Albanian Minister of Agriculture, Rural Development and Administration of Waters, Edmond Panariti says that joint efforts are being made with Skopje to boost up trade. This was declared on Tuesday during a visit that Mr. Panariti held in Skopje upon the invitation of his counterpart, Lupco Dimovski (photo).
The two ministers agreed on strengthening cooperation between the two countries in the sector of agriculture, cooperation which so far as not been at the right level.
Boosting up of commercial exchanges, but how?
Agricultural products occupy an important part of trade between Albania and FYR Macedonia. But is there potential to boost them up? Minister Panariti is sure that there are great potentials. He says that business communities must intensify their contacts to give way to a growth in the exchange of agricultural products.
For the Albanian minister, the increase of cooperation in agriculture is very important, as according to him, it brings positive effects in the development of the economies of both countries.
"We must consider the market as a joint market, where each country may play its role in this joint market through its competitive advantages and this joint market is bigger than the vacant markets of our respective countries. Through such approach, we believe that we will walk in the right path in order to develop our economies for the development of agriculture", says Panariti.
Skopje complains about modest commercial exchanges
Government in Skopje considers commercial exchanges between the two countries as very low, where according to it, potentials are great.
Ljupcho Dimovski – Minister of Agriculture, Forestry and Water Economy says that general commercial exchange between the two countries is currently very small and amounts up to 100 million Euros a year. Mr. Dimovski says that as far as agricultural products are concerned, volume of trade has been very low.
In order to discuss over this low level of trade and the possibility to boost them up, a delegation of businessmen from FYR Macedonia will visit Tirana to establish direct cooperation with companies in Albania.
Mr. Dimovski says that these contacts aim "a greater presence of agricultural products from our country in the market of Albania and vice versa". /ibna/