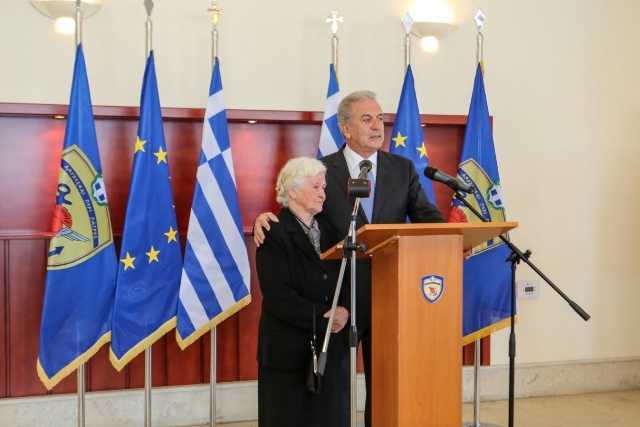 Tirana, October 17, 2014/Independent Balkan News Agency
Only a few hours after the Greek embassy in Albania protested against Albanian authorities for the violent attacks of several Albanian youngsters against Greek minority in the south of the country, comes another note of protest, this time by the Albanian side.
The General Secretary of the Albanian Foreign Ministry, Qirjako Qirko had a meeting today with the Greek ambassador to Tirana, Leonidas Rokanas, where he expressed "the concern of the Albanian side about the publication in the official page of the Presidency of the Republic of Greece of a press release in relation to the decoration of Mrs. Ermioni Bringu by President Papulias, where it was noticed with regret that her place of residence was named as "Himara of Vorio Epirus".
Mr. Qirko demanded "the immediate removal of this naming from the web page of the President of the Republic of Greece".
"This term is not a political and administrative concept in the Republic of Albania, while it's used by anti-Albanian circles, who in the framework of territorial claims, identify South Albania with this term", declared Mr. Qirko.
The Greek ambassador said in this meeting that he will "immediately inform the authorities of the Greek Presidency in order to make the respective correction".
Below, IBNA brings you photos with the webpage of the Greek president, which mentions the term objected by the Albanian side.
The Greek embassy to Tirana too published the press release on the decoration of Mrs. Ermioni Bringu. The press release said that the person who was decorated is from Himara.
Ermioni Prigou was honoured by the Ministry of National Defence
Mrs. Ermioni Pringou from Skutara, Himare, was honoured at the Ministry of National Defence yesterday.
Over the last 74 years Mrs. Prigou has been taking care of the graves of 6 Greek soldiers who were killed in the war of 1940 and were buried in the yard of her house.
The ceremony was attended by the Minister of National Defence Dimitris Avramopoulos, the Deputy Minister of National Defence Ioannis Lambropoulos, the Chairman of the Parliamentary Standing Committee on National Defence and Foreign Affairs Konstantinos Tsiaras. /ibna/