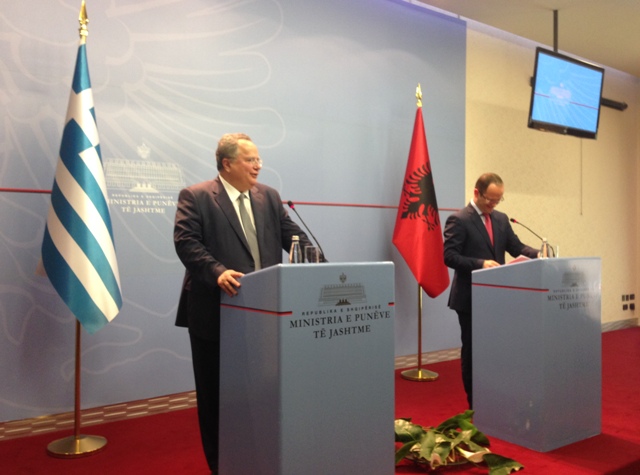 Tirana, 15 July 2015/Independent Balkan News Agency
By Edison Kurani
Greek Foreign Minister, Nikolaos Kotzias, is in Tirana for an official visit and on the second day of this visit, he had an intensive agenda of meetings with state leaders in Albania.
The meetings focused on the problems between the two countries, especially the three hottest topics: Sea border, war law and the so called the compensation of the Tcham community.
Kotzias and his Albanian counterpart, Ditmir Bushati, admit that the tones have been lowered as opposed to the strong declarations launched several months ago, especially by the Albanian side.
However, the achievement of agreements on delicate issues such as demarcation of sea borders and war law is still far away.
Greece and Albania must play a stability role in the region
In his only appearance for the media, after the long meeting with the Albanian Foreign Minister, Mr. Kotzias stopped on regional issues and said that the two countries will play a stability role. "We live in a triangle filled with conflicts, with Ukraine above, Libya on the left and Middle East on the right. This is why we must offer stability for our region, avoiding these waves of instability and conveying waves of stability. Our cooperation is not only important for the two countries and our people, but for the entire Southeast Europe", said the Greek Foreign Minister.
Italy's precedent and the Greek case
In their declarations, Kotzias and Bushati didn't stop on the sea border issue, but when the journalist of the Greek News Agency asked the Albanian Foreign Minister Bushati, the latter stopped on this argument.
AMNA's journalist asked Mr. Bushati why two standards are being used in the case of the demarcation of sea borders. She mentioned the fact that in 1992, Albania gained 70 square meters of waters when demarcation of sea borders with Italy took place. Meanwhile, he said that in the case of the 2009 agreement, another standard was used by not allowing it to enter into force and by demanding from the Constitutional Court to outlaw it, something which did happen.
Foreign Minister Bushati said that the two cases are different and he stressed the thesis of PM Edi Rama for the solution of this issue through international arbitrage if consensus between Albania and Greece is not achieved.
Bushati assured that "we will solve any issue within the framework of international law" and added: "The solution will come from a group of experts and if an acceptable conclusion for both sides is not reached, international law will guide us toward instruments which will offer us a definitive solution".
Bushati admitted that both sides are interested for a solution to be found as soon as possible. "Albania and Greece have a strategic interest in  solving this issue, because it relates to the exploitation and development of economy. We have the EU concepts for the macro-region and we have never thought that we could have a unilateral solution. Greece too is a country that respects international principles and law and wants to have an agreement which is accepted and coordinated with us. Thus, I can tell you that regardless of our different viewpoints on this issue, we have more things in common than things that divide us", Mr. Bushati said.
Does Greece have a war law with Albania
For the Albanian government and the public opinion, the war law is the second hottest issue after sea border. In Albania, media report for a war law in power, which was not abrogated in 1987.
This law has been followed by decisions in 1941 and 1942 to seize the assets of the Tcham community, which according to the Albanian Foreign Ministry, at that time had a value of 200 million USD.
Minister Kotzias was asked in Tirana about the war law and Tcham issue.
He insists that there are is no war law in power between the two countries.
"Albania and Greece have very strong bridges of friendship, such as Albanian emigrants and a Greek minority that lives here for many years. We believe that there doesn't exist a war law with Albania. We believe that all agreements or declarations that are made or cooperation that we have as NATO members, not only make us friends, but also two partner and ally countries. In all other agreements that we will make in the future, we will find the way to confirm that we are not in a state of war", Kotzias said.
The Greek Foreign Minister also responded to the other question. He invited everyone who had a claim to address to the court.
At the end of his argument, Mr. Kotzias gave this message: "We don't want to mine our friendship. We must learn from history, we must not repeat the mistakes of past and we must not remain imprisoned in this history. We want to build a future with Albania, a future that belongs to both countries and people, especially our young generations".
Kotzias also met today with PM Edi Rama, President Bujar Nishani and Speaker of Parliament, Ilir Meta. Mr. Kotzias concluded his official meetings with the leader of opposition, Lulzim Basha.
Kotzias' visit to Albania helped somehow to relax the tense atmosphere that had been existing in the past few months. However, the agreement for the solution of acute problems doesn't seem to be on the discussion table yet. The revision of the Treaty of Friendship between Greece and Albania, is perhaps the most important step toward further solutions. /ibna/