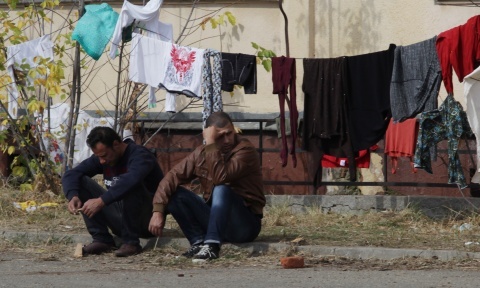 By Clive Leviev-Sawyer of the Sofia Globe
Of 4600 refugees in Bulgaria, just 19 have found jobs, going by official figures.
In the past four months, the 19 had signed contracts in various areas of the country with the assistance of Bulgaria's Employment Agency.
Most jobs were in the garment industry, as tailors, knitting machine operators, cutters and sewing machine operators, while others were employed as cooks and hotel porters. In the garment industry, the average salary for the refugees was 800 leva, about just less than 400 euro.
Currently, at State Agency for Refugees centres, 2192 foreign refugees are housed, of whom 205 have formal refugee status, meaning that they have the same employment rights and obligations as Bulgarian citizens.
In the first eight months of 2014, Bulgaria had received a total of 5554 applications for protected status, of which 4682 had been granted, a report in daily Sega on September 23 2014 said.
It is not clear how many refugees had left the country. In August, 1102 asylum applications were registered.
The State Agency for Refugees said that it was "premature to conclude that refugees are lazy, unable and unwilling to work".
The agency said the cultures from which the people came had significant climatic, social, historical, psychological and many other differences from that of Bulgaria. The wounds of war and the stress of being driven from their homelands stayed with people, who came from countries that were in deep distress.
At the end of August, 48 refugees had registered at labour bureaus. There were good chances that some would find jobs, since there are already advertisements offering jobs specifically for refugees.
One company was offering a starting salary of $400 for specialist excavator machine operators, another company involved in solar energy is offering jobs, while a company in Samokov was looking for 10 refugees from Iraq and Syria, to do transportation work for a pastry shop – in this case offering 700 leva as well as food vouchers and free transportation from Sofia.
According to the most recent official statistics, the national unemployment rate in Bulgaria in June 2014 was 11.6 per cent, above the EU average of 10.2 per cent.