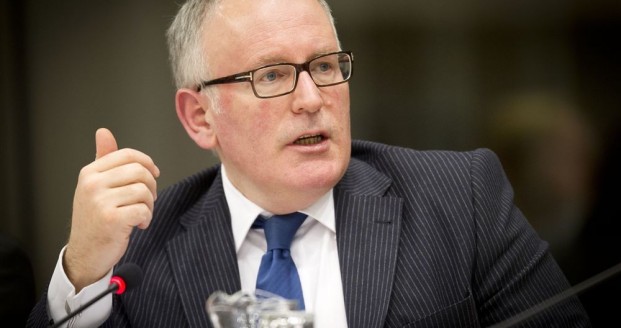 Athens, June 22, 2016/Independent Balkan News Agency
By Spiros Sideris
The situation on the refugee issue in Greece is slowly improving, the people who arrive are recorded, and he is sure this will return the confidence of other countries for a joint solution to the refugee crisis, when they see that the situation is under control, stresses in an interview with the Austrian newspaper "Der Standard", the first vice president of the European Commission, France Timmermans, who, during his visit in Vienna, he held talks with the new Austrian federal Chancellor, Christian Kern and the new Interior minister, Wolfgang Sobotka.
He admits that in relation with the refugee crisis not all that were proposed by the European Commission work (such as the relocatin of refugees from Greece and Italy), but there have been steps forward, and cooperation with Turkey led to instead of arriving daily in Greece over 3,000 people, this number to has been limited to only 50, and no-one is drowning anymore.
As noted elsewhere in the interview, for the first time in 30 years that he is in European politics, he realizes that the European Union can have setbacks that can destroy it, but without saying that this will happen – something that was created by human hand can also be destroyed by human hand, and this must be realised by those who say that Europe has always been and will remain Europe.
He also emphasizes that the main reason that Europe is not an irreversible project is the crisis that Europeans experienced many years and which has led people to an uncertainty and has caused a distrust between states.
For example, as he adds, with the euro crisis has been created in Northern Europe the sense that the South people do not want to work, because they are lazy, while in Greece and Spain, many think that they are forced to accept a reform policy against their interests, dictated by Germany. In this way was created a feeling that in the EU rages a fight of one against the other, he says.
According to the European Commission Vice-President, actually this is the impression one often has during the refugee crisis, that some countries have not done what they should do and pushed everyone forward, but the rest of the countries for many years did not show solidarity towards Greece and in Italy, towards the countries that were most affected and all this has created a situation that makes it difficult for all countries to agree on a common policy.
However, in his view, behind these lies a much deeper problem, and this is the fact that the middle strata of society have lost their confidence in the improvement of their lives and no longer have the feeling that better days will come for themselves and their children, and cannot stand to hear from politicians that they are "already having a good time", but what people want are proposals for the future.