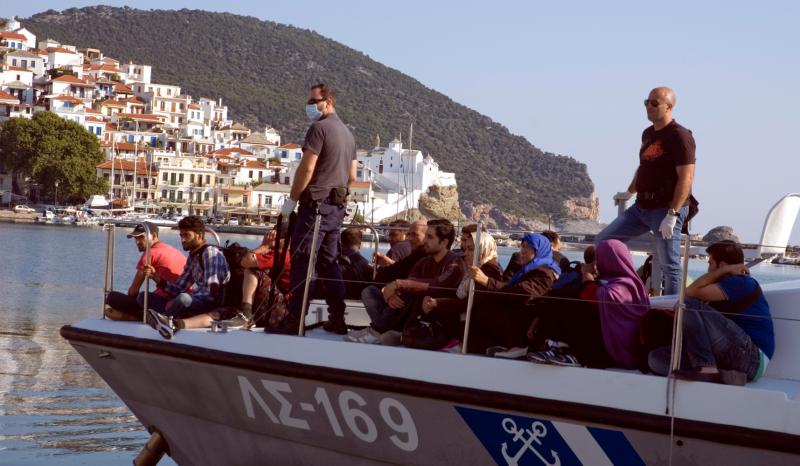 Athens, August 11, 2015/ Independent Balkan News Agency
By Spiros Sideris
The number of illegal migrants who entered Greece in the first seven months of 2015 increased fivefold compared to the same period in 2014, as show the official statistics of the headquarters of the Greek Police. Accordingly to the figures, from January 1 to July 31, 2015 were arrested 156,726 irregular migrants when the corresponding figure of 2014 was 32.070! At the same time, in the first seven months of the year were arrested by police and port authorities 727 traffickers, compared to the 637 in 2014.
What's more impressive are the entry points in Greece this year, since 126,250 irregular migrants illegally entered Greece from the Greek-Turkish sea border, when the corresponding period last year was 8,738. Of all immigrants the vast majority 88,264 is from Syria, 32,414 from Afghanistan, 9,445 from Pakistan and 5,421 from Iraq.
In recent weeks conditions in the border islands of the Aegean are suffocating with the rapid increase of illegal immigrants entering the country daily. The flows are increasing exponentially, since from February, which Greece started to implement a new immigration policy, more than 55,000 illegal migrants were arrested, showing an increase compared to the same period last year by 469%. Indeed, there are parts of the country, such as the Dodecanese where the increase skyrocketed to 1251%.
At the same time, great concern caused the information from FRONDEX that hundreds of illegal migrants who had entered the Greek territory from Mytilene and other border islands passed through the Serbian-Hungarian border. A few days ago, Skopje proceeded to an increase of its military forces on the border with Greece, causing the entrapment of hundreds of migrants on the northern border of Greece.
It is worth noting that in Turkey, Greece, Austria, Germany, Hungary, Sweden and Italy, the ten major circuits have masked offices and local representatives which hide and settle the illegal migrants during the first days. Last year for example, 40,000 migrants from Asia were trapped in Hungary, the names and details of who showed that they had gone through Greece.