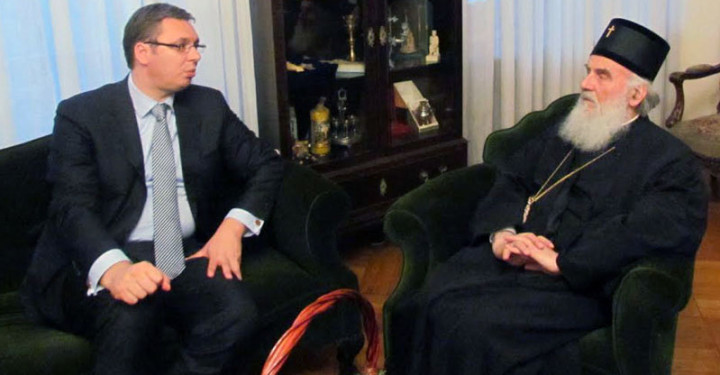 By Milos Mitrovic – Belgrade
The government of Serbia led by prime minister Aleksandar Vucic is more popular than the Serbian Orthodox Church (SOC), the survey showed. For decades, SOC has been, according to most of the polls, at the top of the most respected institutions among Serbian citizens, with military usually being in second place.
If the presidential elections were held tomorrow, Aleksandar Vucic would gain 58 percent of the votes, while the current head of the state Tomislav Nikolic would be supported by 27 percent of the citizens, the poll conducted by Faktor Plus agency for "Politika" daily showed. Nikolic was the leader of Serbian Progressive Party until he became president in 2012; Vucic then succeeded him. Serbian media have been speculating for a while that prime minister and president are at odds on many issues.
Srecko Mihailovic, sociologist and researcher of the public opinion, says that the extraordinary popularity of Vucic is being transferred to his associates, that is the institution, which is represented by him – the Serbian government.
"I am not even sure whether the popularity which president Nikolic enjoys is his genuine popularity or  the significant part of it is actually overflowed popularity of 'Alexander the Great'", Mihailovic told "Danas" daily alluding to Vucic.
When asked to comment that the survey has showed that the government was for the first time more popular than SOC, Mihailovic said: "Thank God that this has finally happened".
"It's interesting that the prime minister has overcame the SOC in popularity, which is in Serbia pretty fictive, just like the popularity of the army. At a time, I have tried to analyze the popularity of the Church by asking the respondents to say what they think about late patriarch Pavle, as well as the bishops and local priests. As it turned out, there were significant differences in the public opinion. The Patriarch was very popular, but the decrease of the popularity was obvious when it comes to the lower levels of the hierarchy of the Church.  The popularity of the local clergy was similar to the popularity of some very unpopular political institutions", Srecko Mihailovic explained.
Nikola Knezevic from the Centre for the Study of Religion, Politics and Society has said that the people have "short memory and political elites are very skilled in manipulating". "On the other hand, the Church which should be the moral foundation of the society – and it has been for centuries – has been linked through the media with certain scandals or daily political incidents, due to statements by certain Church dignitaries. This leads to the loss of people's trust", Knezevic explained.