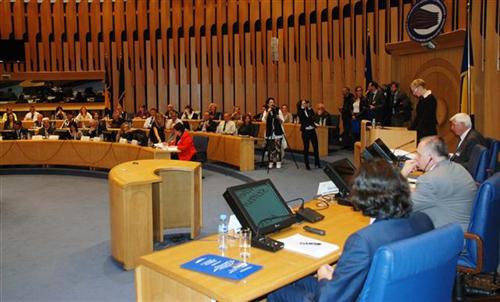 By Nevena Šarenac – Sarajevo
Foundation 'Konrad Adenaur' has organised, today, in Sarajevo a conference 'Reform of the legal system and the efficient fight against corruption in BiH'. Representatives of judiciary, executive and legislative, together with representatives of NGOs and International organisations attended the conference.
BiH Minister of Justice Bariša Čolak said at the opening, that every country that strives to be more democratic, must, above all, have a good legal system, because, without it there is no professionally-led, normatively regulated, independent and accountable judiciary.
According to him, apart from invested efforts and achieved results in the reform of the legal system in BiH, some of the key challenges are still unresolved and they are a burden on the legal system, and citizens are rather dissatisfied with it.
'Reforms have brought the harmonization of BiH legal system with EU standards and they have established vital legal institutions', said Čolak.
President of the International Organisation of Prosecutors and Member of the Venice Commission James Hamilton said that in order to fight corruption, the rule of law must exist, which is a pre-condition for independent judiciary.
He added that the key condition for that is the legal security, or in other words, that citizens understand and obey the law.
According to him, the worst possible scenario is the non-existence of independent judiciary and because of that a network of corrupted judges, politicians and other people, mostly businessmen is being created, and they do not care about interests of the state nor do they care about interests of citizens, because they only pursue their own personal agendas.
Talking in the name of the president of BiH Court, Judge Hilmo Vučinić said that the reform of judiciary in BiH is still an ongoing process and many other things need to be finished, noting the need for depoliticization of the process of naming judges and prosecutors.
He said that the Structural Dialogue started well, but now it has reached a dead-end, because of "requirements for minimizing the role of audit and judicial institutions at the state level, criticising a large number of unresolved cases, opening the issues of constitutionality and expanding competencies of the Court and Prosecutor's Office', and for passiveness he blamed the EU.
In the name of organisers, manager of the Representative Body of the Foundation, Sabina Wolkner said that today's talks about the reform of judiciary in BiH were envisioned as political, not as expert dialogue, during which the compromise solution should arise through arguments.
It was said that that today's topic put the police structures and their operative work in the back burner of the fight against organised crime and corruption.