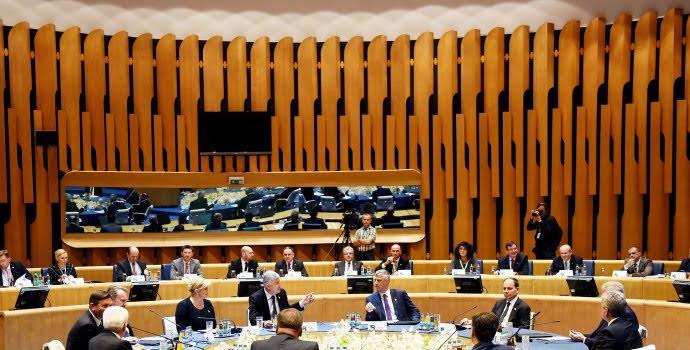 Pristina, 30 May 2016/Independent Balkan News Agency
By Elton Tota
The not so glorious past must be left behind by the Balkan nations, while communication between neighboring countries must be boosted by making the necessary steps toward a reconciliation.
This was declared by the president of Kosovo, Hashim Thaci in the two day summit of the leaders of the region in Sarajevo, in the framework of the "Brdo Process".
"Time has come for a new step, that of building trust between the nations of our region", said president Thaci in the summit which saw the participation of the presidents of Albania, Bujar Nishani, that of Serbia, Tomislav Nikolic, FYROM, George Ivanov, Montenegro, Philip Vujanovic, etc.
Speaking about the importance of events such as this summit, the president said that "these forums are platforms where we will commit that we will fight with each other, that we will support each other and collaborate in building the future of the region".
Thaci said that the region now has its guideline for a better future. "Reconciliation, trust, friendship, cooperation, integration, these are the future of the region", Mr. Thaci said.
In this summit, the head of the Presidency of Bosnia and Herzovina, Bakir Izetbegovic said that political leaders have a responsibility not only to meet, but also to improve relations between the countries.
Meanwhile, President of Slovenia, Borut Pahor, as one of the co-organizers of the summit, said that Europe is worried with its internal problems, therefore Western Balkan countries must seek ways to improve cooperation and the integration of the region.
President of Croatia, Kolinda Grabar-Kitarovic, as another co-organizer of the summit, said that the fact that Europe is facing crises, makes cooperation more necessary.
The summit also discussed the advancement of regional cooperation in front of the challenges that the region faces, such as refugees, radicalization, extremism and EU's "exhaustion" with enlargement.
The Summit ended with a Joint Declaration, with which the heads of states of the region pledged for dialogue, understanding, reconciliation and trust. This declaration also stresses the commitment to collaborate in order to tackle challenges that threaten the region and avoid the hostilities of last century and to support each other in integrating processes.
Brdo Summit is an incentive of the presidents of Slovenia and Croatia, as two EU member countries, which aims the strengthening of regional cooperation and encouragement of political dialogue of the Balkans with the EU. /balkaneu.com/