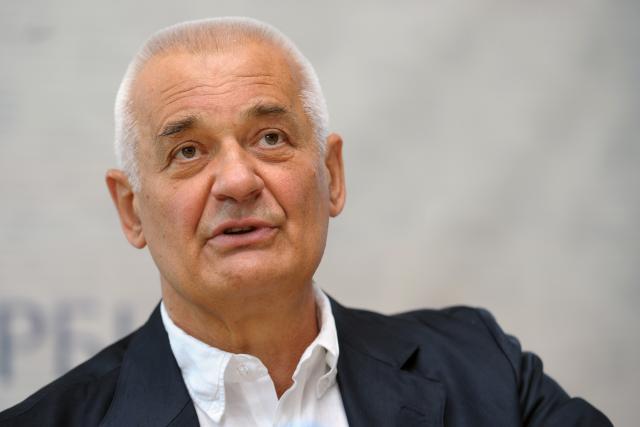 By Miloš Mitrović – Belgrade
Aleksandar Tijanić (64), Serbian Broadcasting Corporation (RTS) director general, suddenly passed away on Monday evening. After another working day, Tijanić reportedly had a stroke, in front of the building where he has lived with his family.
He was among the most famous journalists in Serbia and former Yugoslavia, as well. The news on Aleksandar Tijanić`s death has been published/broadcast by the media in all ex-Yugoslav republics. Nobody stood aloof towards his journalistic work, colleagues reacted on news on Tijanić`s decease.
Tijanić has studied journalism at Faculty of Political Sciences, Belgrade University and started his career in Belgrade`s NIN weekly. He was successful journalist/columnist in printed media and editor-in-chief/CEO with several TV stations as well. Nevertheless, Tijanić considered himself only to be a journalist.
He has covered a wide range of issues, from foreign and internal policy, to sports. Tijanić contributed with what is now Croatian daily "Slobodna Dalmacija", as well as with former Zagreb magazines "Danas" and "Start". He has also been a columnist with "Mladina" (Ljubljana) and "Oslobođenje" (Sarajevo).
In 1996 Tijanić was Information Minister in Serbian government. From 2001 to 2004 he was the adviser of FR Yugoslavia president Vojislav Koštunica.
Headed by Tijanić, within 10 years RTS became the most popular TV station in Serbia; TV shows produced during his term have reached highest ratings. According to foreign experts, 2008 Eurosong organized by RTS under Tijanić`s leadership had been among the most successful European music TV contests. He wrote several books and the last one is to be published until the end of the year.
Serbian president Tomislav Nikolić, prime minister Ivica Dačić and other  government officials offered their condolences to RTS and Tijanić`s family. "Aleksandar Tijanić will be remembered as one among the best Serbian journalists, important and influential witness of Serbian and Yugoslav history during the last four decades", PM Dačić stated.  "Until the very last moment he fought for the best possible status of the public service (RTS)", Deputy PM Aleksandar Vučić said.
"With decease of Aleksandar Tijanić, RTS has lost its strongest advocate; Serbian journalism lost an author which has been recognized beyond its boundaries. Tijanić has been respected by newspapers readers an televiewers. Strongmen have been uncomfortable with him. The lose caused to Serbian journalism by his too early decease can be compared with catastrophic earthquake", Nino Brajović, secretary general of Journalists` Association of Serbia emphasized in his statement.