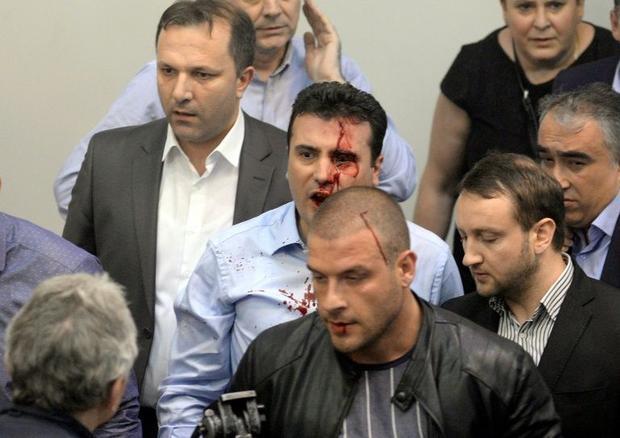 By Nikos Fragopoulos of Skopje News
Skopje's court ordered the detention for 30 days of three MPs of the VMRO-DPMNE party (Kristo Mukowski, Saso Vasilevski and Ljuben Arnaudov), who are being prosecuted for the violent incidents in the Parliament of fYROMacedonia on April 27, 2017, while on three other MPs (Johan Tarkulovsky, Zaklina Peshevska, Ljupco Dimovski) the court placed them under house arrest.
The six deputies are among the 36 persons, who are being prosecuted for "acts of terrorism which threatened the constitutional order and security", with regard to the events in Parliament on 27 April 2017.
On Friday, 1 December, the parliament of fYROMacedonia had decided to lift the immunity of the six MPs of Gruevski's party, in order for the relevant pre-litigation procedure to continue.
The six deputies have the right to appeal within 24 hours of the decision of the court that imposed the restrictive measures.
It is noted that on 27 April, hundreds of supporters of Nikola Gruevski invaded the Parliament building after the election, to protest for the appointment for the first time in history of the country, of an Albanian President of the House.
Protesters attacked and injured members of the Social Democratic Party of Zoran Zaev and the Albanian minority parties, who at that time were electing Talat Xhaferi for President of Parliament.
Some of the members of VMRO-DPMNE are said to have opened the doors of the Parliament building, so that the protesters could invade and cause the incidents./IBNA