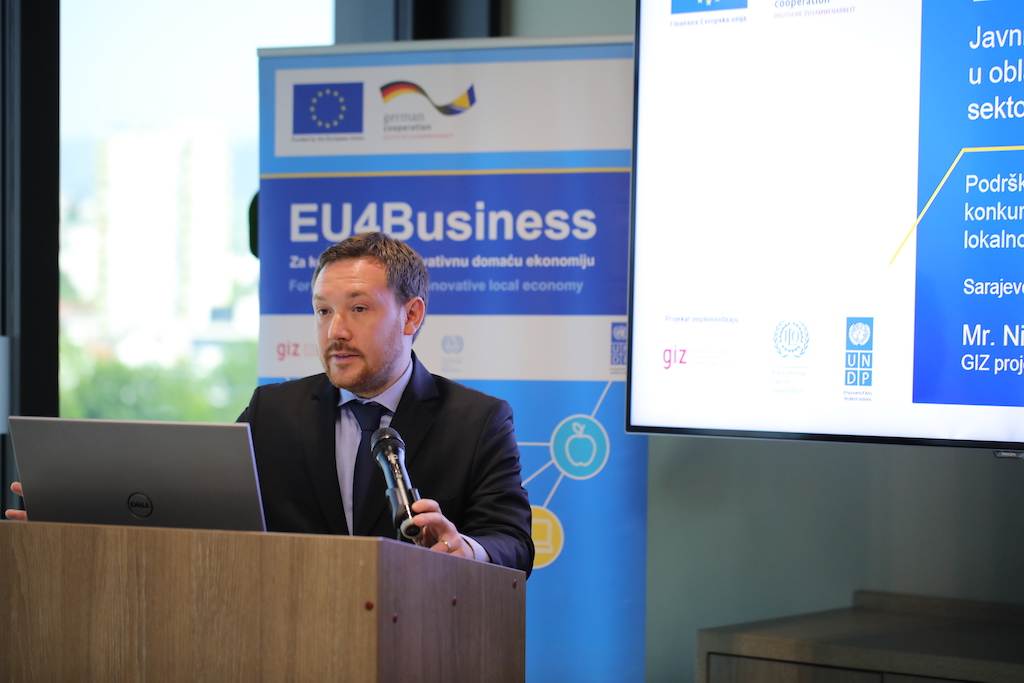 Thanks to the EU4Business Project, micro, small and medium-sized enterprises (SMEs) and entrepreneurs in BiH can benefit from grants from the Call for Proposals for Partnership Projects in the export-oriented sector.
A total of three million euros will be available for projects that develop innovation, cooperation, digitization and τηε business environment, it was said today in Sarajevo at the presentation of the public call.
Head of the Section for Justice, Home Affairs and Public Administration Reform at the EU Delegation to BiH, Nicolas Bizel, said that this is the fourth call for proposals, noting the earlier calls for agricultural and food sector and rural development, tourism and entrepreneurship.
"Bosnia and Herzegovina is lagging behind the countries of the region when it comes to exports and presence in foreign markets, that is, the integration of BiH into international value chains.
Although small and medium enterprises are dominant in the BiH economy and make up a total of 90 percent of the total number of companies, their export results are low, meaning that larger companies still dominate the export sector," Bizel explained.
As he stressed, Bosnia and Herzegovina should work on increasing exports of high value-added products, but also on the digitization of companies that is still not at sufficient level, as well as on developing innovations and keeping up with the latest technologies.
The Project Manager of the EU4Business project (GIZ), Nils Wetzel, emphasized the importance of development of export sectors for employment growth.
"The EU4Business Project supports innovations in export-oriented companies, which are crucial for the development of high value-added products. We expect the project to contribute to the creation of new jobs, increased exports, and the creation of new business development services," Wetzel said.
The call is open from July 2 to August 30 this year.
The EU4Business project will announce a public call for submitting of project proposals in the area of ​​export-oriented sectors in BiH.
The EU4Business project aims to strengthen BiH's capacity for economic growth and employment by developing competitiveness and innovation in selected sectors.
For this purpose, a total of ten million euros of grants have been earmarked. The project is worth 16.1 million euros, and is jointly financed by the European Union (15 million euros) and the Federal Republic of Germany (1.1 million euros)
GIZ, ILO and UNDP jointly implement the project, in the period from April 2018 to March 2022./ibna