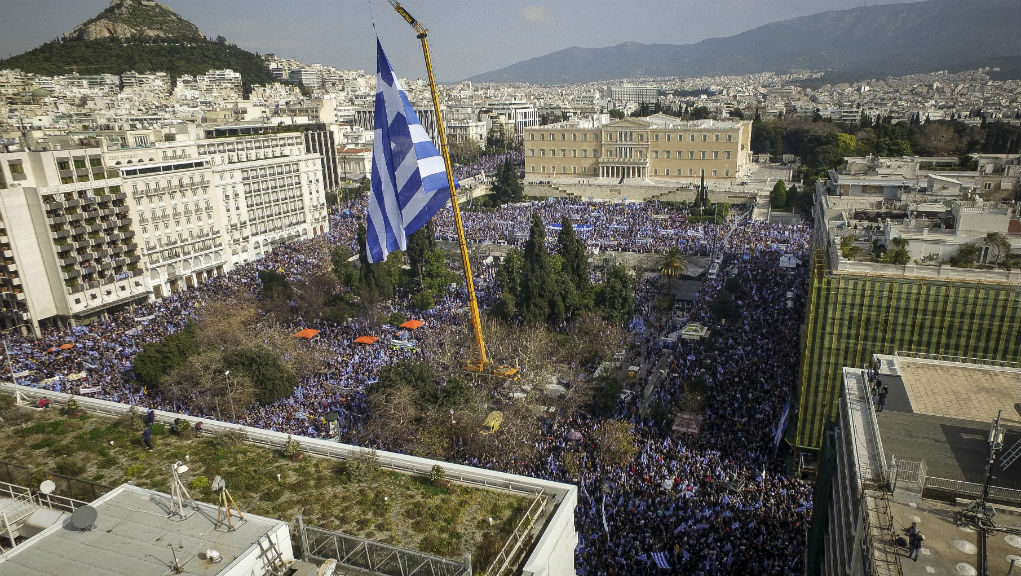 Thousands of protesters from across Greece gathered at Syntagma square outside the parliament building on Sunday afternoon to protest a potential government compromise over the name of the Former Yugoslav Republic of Macedonia (FYROM).
Local media reported than hundreds of thousands of people gathered in central Athens, in what is considered to be the largest such rally since 1992. Organizers said the turnout was as large as 1.5 million, while unofficial police figures estimated over 150,000 took part.
World-famous composer Mikis Theodorakis – who was the main speaker at the rally – launched a scathing attack on the government, branding it a "ruling minority" and calling on it to put any proposed solution to the name issue to a referendum. "We will never give up the name of Macedonia", Theodorakis told the crowd.
The Orthodox Church of Greece also expressed objections to the use of the name Macedonia by FYROM, in a message from the Holy Synod read by Metropolitan bishop Dorotheos of Syros.
Former Prime Minister, Antonis Samaras was also present at the rally but did not address the demonstrators. He told reporters that he was moved by the unity shown by Greeks on the "Macedonia issue". Also present were MPs of New Democracy, ANEL, Golden Dawn and the Union of Centrist parties.
The Prime Minister's Office said in a statement that the millions of people some were expecting, did not turn up at the rally. According to the government, its intention is to be guided by patriotic interest, moderation, prudence and persistence in clear positions aimed at cooperation and understanding. The announcement also accused the New Democracy leader, Kyriacos Mitsotakis, and former PM Antonis Samaras, of wanting to take advantage of the demonstration.
Commenting on the rally, main opposition New Democracy party leader said on Sunday that it demonstrated the people's lack of trust in the government to handle a crucial national issue. He accused the Prime Minister of not handling the negotiations with FYROM properly and vowed to listen to the people, safeguard national interest and unity.
Earlier on Sunday, hundreds of charted buses brought protesters in from around the country to Athens, while more arrived on ferries from the islands. Chanting "Hands off Macedonia!" and "Macedonia belongs to Greece!" tens of thousands of protesters made their objection clear to a composite name including the term "Macedonia".
About 700 left-wing and anarchist protesters set up a counter-demonstration nearby, bearing banners calling for Balkan unity. Dozens of riot police were deployed to keep the two demonstrations separate. Some scuffles reportedly broke out but on a very small scale in what was a largely peaceful rally.
A poll conducted by the University of Macedonia on behalf of the Hellenic Foundation for European and Social Policy (ELIAMEP), showed that 71.5% of Greeks are against FYROM using the term "Macedonia" in their name. Only 22.5% said they would accept a composite name solution. Moreover, 56% of respondents consider that Alexis Tsipras' handling of the issue is misguided./IBNA