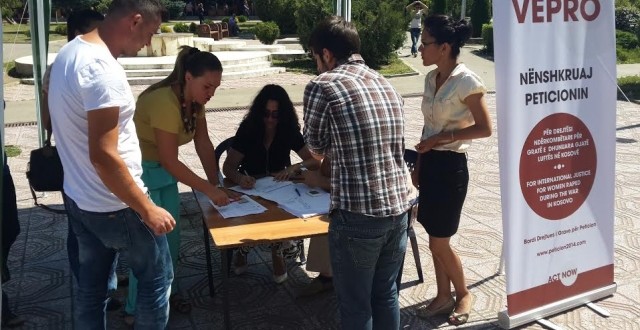 IBNA Special Report
Pristina, July 16, 2014/Independent Balkan News Agency
By Elton Tota
Over 20 thousand citizens from all the communes of the country have signed the petition which seeks international justice for women who were raped during the war in Kosovo.
The scope of  this petition, which has started to be signed on Monday and will last until Friday, is for perpetrators of genocide to be put before justice.
In one of the central squares of Pristina, "Zahir Pajaziti" square, 1 thousand signatures were collected on the first day and the same has taken place today.
One of the organizers of this activity, Diamant Binaku says that the interest shown by the citizens has been great.
"The interest of the citizens has been great. It seems that the media campaign, which we would like to thank for the free time offered to us, has led to a lot of interest among the population and so far we have collected thousands of signatures", said he.
This incentive has been praised by the citizens who have signed it, but they say that such incentive should have been launched earlier.
Hanife Beqiri told IBNA that this petition marks the time for justice to be made.
"It's a good incentive. It's time for United Nations Organization to help in setting up international justice mechanisms in order to secure unbiased justice for the women of Kosovo who were raped during the war. It's a good incentive which must be congratulated. I encourage all the citizens to participate and sign such petition", says Hanife.
Nisa Nishliu has also praised this incentive. According to her, it's better late than never.
"I believe that it's a very good incentive, bearing in mind the recent events and discrimination that has been made. It's never too late", says Nisa for IBNA.
The head of the board for the petition and deputy prime minister of the Republic of Kosovo, Edita Tahiri demands from the United Nations Organization to draft a report for all the genocide taken place in Kosovo in the last war.
Another reason that Tahiri mentions in support of the campaign is the possibility of the establishment of a Court on Serbia, in order to seek international justice and to bring perpetrators of genocide before justice.
She said that Kosovo has strong women and that this campaign will be successfully implemented, as it's taking place in the framework of the global campaign against violence toward women.
Tahiri said that the third stage of talks with Serbia also relates to women who were raped during the last war in Kosovo.
The campaign and petition are also being backed by the mayor of Djakovica, Mimoza Kusari Lila.
She said that the violence used against the citizens of Kosovo, especially women, during the war in Kosovo must be addressed.
"Justice must act and perpetrators must be put before justice. The commune of Djakovica will be mobilized and will serve this campaign during its entire length", said Mrs. Kusari Lila. /ibna/