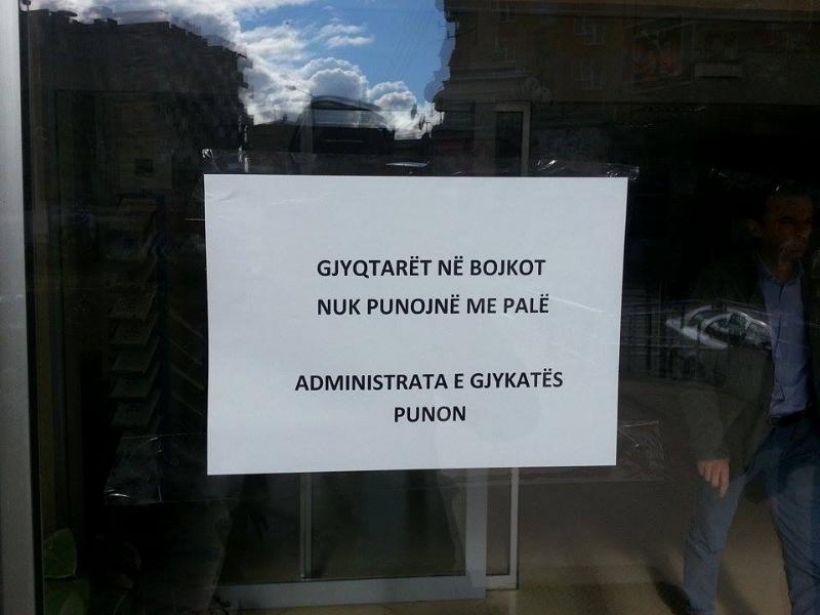 IBNA Special Report
Pristina, March 17, 2015/Independent Balkan News Agency
By Elton Tota
Since March 3, courts in Kosovo have been shut down. Over three thousand judges in six courts of first instance demand a pay increase of 25%, a 200 Euro increase for judges of serious crimes and a leveling of salaries with prosecutors.
Zenel Leku, judge in the Court of First Instance in Pristina, says that the discontent about salaries emanates from last year when the government of Kosovo had decided to increase overall salaries by 25%.
Although the increase included judges too, Leku says that three days later, another decision was taken to abolish the increase for judges.
"At that time, we objected this decision through the Association of Judges and we have demanded a pay rise, while threatening to go on strike. The strike was avoided at that time, as the Judicial Council, Ministry of Justice and Association of Judges had come to an agreement for judges to benefit an increase of 200 Euros a month due to the dangerous nature of their job", Leku says.
Although such decision was signed and planned to be implemented as of April 1, 2014, this decision remained on paper.
Given that salaries have not been increased, judges have addressed a letter to the government of Kosovo on January 29 this year, in order for the decision that was taken to be respected. While there's no reply by the government of the country, the judges have decided to enter a strike and not come back to work until their demands are met.
"We started our strike on March 3 and we have decided not to stop the strike until our demand is met. Judges are only working on detention cases and cases of domestic violence", says Leku, representative of the judges who have entered a strike.
Zenel Leku doesn't know what's the number of cases adjourned as a result of the strike that has commenced last week, but he says that there are hundreds.
Judges complain to president Atifete Jahjaga
In a letter sent to the president, judges have complained that their strike is not being reflected a lot on the media.
Judges have reminded to the president that the judges' strike is unprecedented in this country.
"Let us hope that this week will be decisive in finding a solution to this problem, in order not to move to another level of our protest, thus demonstrating to the civilized world that we are (not) in favor of strengthening the rule of law", states the letter received by president Jahjaga.
Judges conclude their letter with the hope that the president will show her best will to support and refer their demands "in a fair manner to competent authorities".
Kosovo's Judicial Council supports the demands of judges
The head of Kosovo's Judicial Council (KJC), Enver Peci has declared that he supports judges and their request, although he says that consequences may be even more serious.
Peci says that KJC has addressed to the government of Kosovo, namely the Ministry of Finance on the demands of judges.
"The PM has been informed in detail on these demands, but this is a delicate moment and budget funds are limited. But I support judges, because there has been a promise for a pay rise", Peci says.
The head of KJC said that there are around 315 judges of all levels who had been promised a pay increase. According to estimates, if judges' demands are met, then the monthly cost for this will be 63 thousand Euros.
The government of Kosovo has not yet come out with a public declaration in relation to the demands and the strike of judges. /ibna/