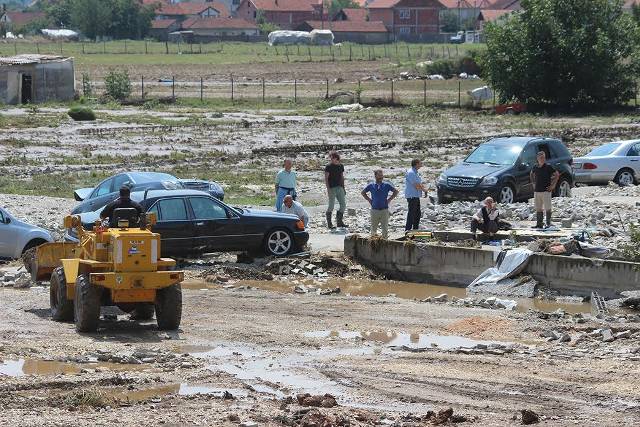 Skopje, 10 August 2016/Independent Balkan News Agency
By Naser Pajaziti
According to the first evaluations of the government commission for the management of crises, 5 thousand homes and families from 12 quarters in Skopje have suffered great damages in people and materials from the floods occurred during the weekend. Besir Jashari, secretary at the Ministry of Agriculture says that professional teams are on the ground to assess the damages.
"Our teams are on the ground and they are assessing the damages. We cannot offer an accurate figure for the damages, but everyone will be compensated", Jashari says.
Number of victims amounts to 22, search continues for missing people
So far, the number of victims is 22 and the number of missing people is one. But residents fear that the number of missing people may go up, as in some homes, the level of water is still high. "We cannot say for sure what the number of missing people is, but we want every case to be reported to police. Officially, there is only one 16 month old child missing for the moment", said Liza Bendevska of the Ministry of Interior.
250 forces from the Rescue and Protection Office have been mobilized in the rescue operation. They are also being assisted by teams from neighboring countries such as Bulgaria, Serbia and Kosovo. The European Union has also offered its support.
Residents accommodated in schools and gymnasiums
The majority of people who were affected by the floods have been accommodated in schools and gymnasiums in Skopje. But a part of the residents whose homes have not been flooded entirely, are staying on the second floor of their houses. They demand authorities to take the water out of their homes and not food.
"We demand from them to take the water out of our homes. As far as food is concerned, that problem is solved, because we are helped by tens of humanitarian organizations", says Sali, a resident of Hasanbeg quarter.
Residents of flooded areas fear that rain may come back and that the storm of the weekend may be repeated. /balkaneu.com/