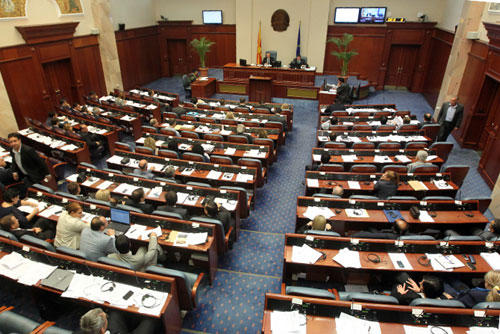 By Kyriacos Kyriacou-Nicosia
Political parties in Cyprus started backing away from a prior decision to indiscriminately publish thousands of names of persons and companies that transferred funds abroad before March 2013, when the government agreed to close the country's second largest bank (Laiki bank) and to impose a bank deposit levy on uninsured deposits in the largest bank (Bank of Cyprus), in part of a 10 billion euro bailout program.
The prior decision taken by the House of Ethic was to include the entire list of 11,000 names in a report looking into the reasons for economy's meltdown. The final report by the Committee is expected to be published after the May 6th.
Seconds thoughts are now made only regarding businessmen and companies, after warnings made from the business world that this will damage the economy and discourage foreign company in investing in Cyprus. The list of names of politicians and bank officials that transferred funds abroad before March 2013 is expected to be included in the final report.
According to the findings of a draft report for the economy collapse that was leaked to the press a few days ago, those who transferred money abroad, shortly before the haircut on deposits, may be suspect of having acted on inside information that was not available to the general public. Furthermore, the Committee of Ethics believes that anyone who secured favorable terms on their loan may be suspect of contributing to the collapse of the banking system. However, the Committee says that not everyone on the list is guilty or even a suspect.
"Publication will hurt the country"
In a statement issued late yesterday, ruling DISY party asserted that the indiscriminate publicising of names and transactions would "not serve the purposes of the Ethics Committee and would hurt the country."
"In a well-governed state that aspires to becoming an international business centre, such indiscriminate disclosure could not be possible, whereas transactions by 'politically exposed persons' being lost in a multitude of regular transactions would also fail to serve the purpose of the House probe and render its final report incomprehensible to the public," the statement concluded.
Opposition communist party AKEL also had second thoughts, saying that the House probe should list only politically exposed persons who transferred funds abroad. In the statement, AKEL claimed as its own the idea of refraining from indiscriminately publishing thousands of names. Given that DISY and AKEL MPs have a majority in the House ethics committee, it's likely that the en masse publication of all the names will be avoided.
The final report is expected to be discussed at Parliament, before published, in May 6th.