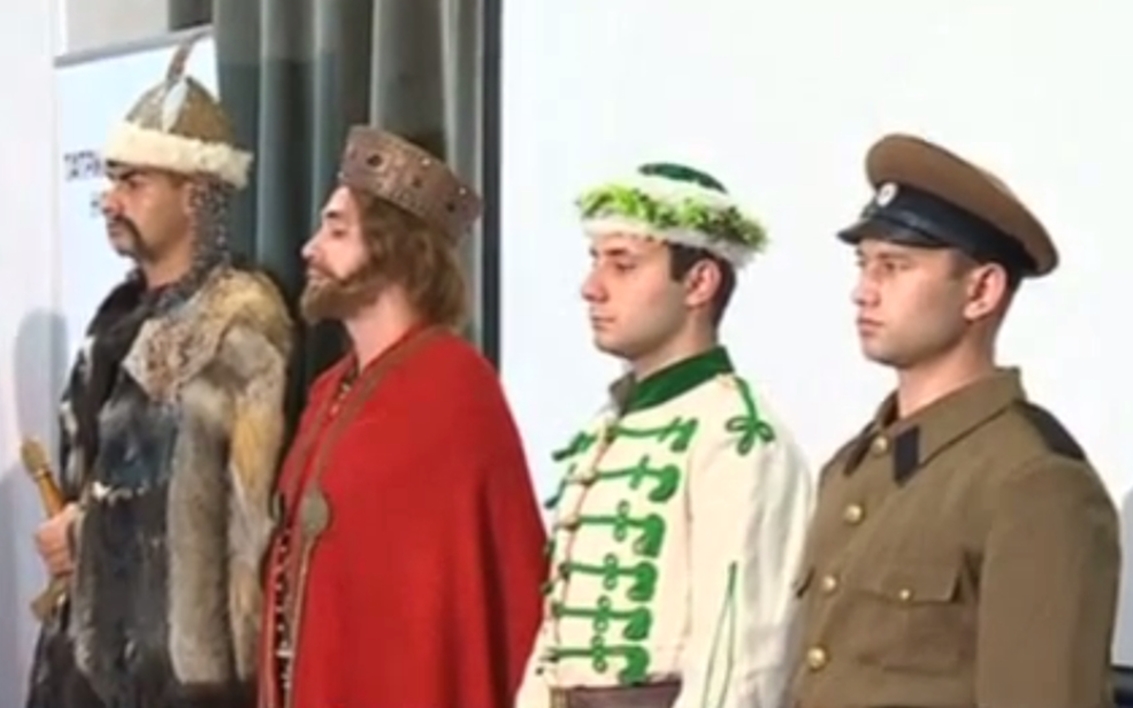 By Clive Leviev – Sawyer of The Sofia Globe
In the auspicious presence of the heroes of Bulgarian history ancient and modern, or at least young men costumed to portray them, Bulgaria's new Patriotic Front was formed on August 3, quite possibly heralding the latest form of lunatic fringe destined to take its place in the country's next legislature.
From the parliamentary election of 2005 to now, that place has been occupied by Volen Siderov's ultra-nationalist far-right Ataka party, but now that Siderov's political fortunes have evaporated, it seems that his estranged political partner may take his place when Bulgaria's 43rd National Assembly is elected on October 5 2014.
More recently, the outlandishly populist Bulgaria Without Censorship (BWC) appeared on the scene, spawned from a well-funded televised talk show with former journalist Nikolai Barekov as its figurehead.
A big-ticket campaign got Barekov two seats out of Bulgaria's 17 in the European Parliament, prompting him to proclaim himself Bulgaria's leading political force and promise, however contradictory, both the return of the communist-era appellation "The People's Republic of Bulgaria" and, simultaneously, the monarchy.
But Siderov's party has been drowning in scandal, worsened by its awkward association with holding in place a ruling axis in which the Movement for Rights and Freedoms – a party led and supported in the main by Bulgarians of Turkish ethnicity and thus a particular bete noire in Siderov's worldview – played a leading role.
In turn, BWC has been hardly flushed with success as Barekov's political capital seems increasingly exhausted. Deputy leaders, local structures and even the "Euro Mummies" associated with his party have flown the coop.
Among those who have slammed the door on BWC are Krassimir Karakachanov, the 49-year-old leader of nationalist VMRO. He was a member of the 38th National Assembly, elected in 1997, as part of the United Democratic Forces. He was a member of the 40th National Assembly, elected in 2005, as part of a motley political crew including agrarians.
Karakachanov was also a former agent for the communist-era State Security, with the code name "Ivan" – a revelation that came in part in response to questions asked in May 2006 of the then-interior minister by then-reporter Nikolai Barekov; the same Barekov with whom Karakachanov would work ahead of Bulgaria's 2014 European Parliament elections.
All that is in the past, like the medieval khans and other Bulgar heroes who stood in array at a news conference on August 3 as Karakachanov and the leader of the National Front for the Salvation of Bulgaria, Valeri Simeonov, confirmed their alliance in the country's ahead-of-term elections in October.
As a political force, the "Patriotic Front" – a name for those who are students of such things quite reminiscent of the name of the force that helped Zimbabwe's Robert Mugabe in his political ascent – is not quite a laughing matter, however much the charade of historic heroes (as played by stern-faced young men at the news conference) set social networks such as Facebook on a roar with contemptuous hilarity.
In Bulgaria's May European Parliament elections, Simeonov's NFSB outdid Siderov's Ataka, while Karakachanov's VMRO is credited, if that is the word, with getting Barekov's BWC its two seats in the European Parliament.
In other words, with Siderov's Ataka likely to be gone, the "Patriotic Front" may take its place as the oddball minority party in Bulgaria's next Parliament.
Siderov and Simeonov have a history of their own. Simeonov, owner of cable television Skat, gave former journalist Siderov a slot on the channel to spout his brand of ultra-nationalism in a programme called Ataka. Its signature tune was Wagner's Ride of the Valkyries, a number not without significance in the 20th century history of Europe, and not only in terms of opera.
From that, the Ataka party was spawned (oddly, giving it the same provenance as BWC; Bulgaria now numbers not one but two political parties that began life as television programmes.)
Over time, however, Siderov and Simeonov fell out. Siderov ended up with his own television channel, Alfa Ataka, at dagger's drawn with Simeonov's Skat. The list of confrontations in recent years involving the respective reporters and politicians of the rival sides is too tawdry to go into.
So what does the "Patriotic Front" offer?
According to the statements at the August 3 news conference, the defence of Bulgarian national interests.
Further, an alternative to the current political model, solution to the demographic crisis, to the problems of health and education, fighting monopolies and a healthy competitive environment. They also want a "fair and incorruptible" judiciary.
But perhaps most significantly of all, Simeonov told reporters that his NFSB and VMRO were united in their loathing of the "unconstitutional", "pro-Turkish" MRF.
"We are of the same opinion that we should do everything in our power to make sure that it (the MRF) is removed not only from power, but also from politics," Simeonov said.
Karakachnov added, "Our understanding of patriotism and nationalism is not to hate the different, the one who is from another ethnic group or another colour or a different religion, our cause is to put the interests of our people above all".
The political alternative in Bulgaria, he said, was neither the left nor right, it was only the Bulgarian interest.
The NFSB-VMRO agreement signed an agreement that their new alliance could be joined by other parties "sharing the patriotic idea".
Whatever that means remains to become clear. Perhaps, those able to sit with a straight face in front of young men dressed up in cheap costumes portraying Bulgarian heroes.