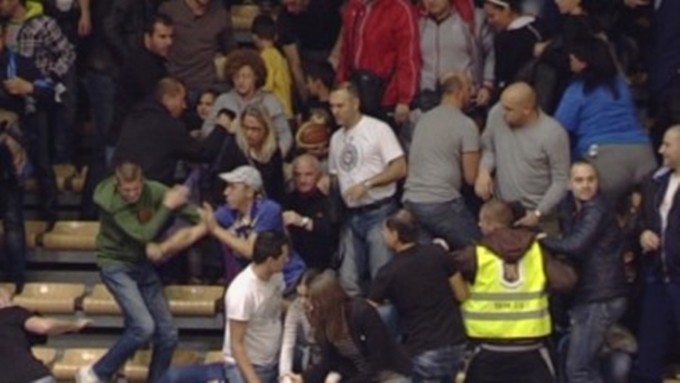 By Clive Leviev-Sawyer of the Sofia Globe
Thirteen people were arrested a fight in the stands between fans at a Levski Sofia – Partizan Belgrade basketball match, Bulgaria's Interior Ministry said on November 16 2014.
Levski faces sanctions over the incident, in which police had to intervene after the private security firm hired for the match, played at the Universiade Hall in Sofia, failed to cope with the violence.
More than 100 were involved in the fight, which saw chairs and other missiles thrown. The match was suspended for close to an hour.
Interior Ministry chief secretary Svetozar Lazarov said that police had deployed immediately after seeing the situation was getting out of hand and had not waited for an emergency call.
Tension had soared after Levski fans began attacking fans of the visiting Serbian team. The game was interrupted in the first quarter when the fighting started.
Lazarov said that police had confiscated metal rods, fireworks and other dangerous items after making the arrests.
Police are continuing investigations and further arrests are possible.
When the violence broke out, the Partizan Belgrade team quit the hall while, local media reports said, members of the Levski team tried to calm the fans.
Levski coach Konstantin Papazov said that he was shocked by what had happened.
"I am pleased only the fact that with good organisation, we managed to finish the match. I am sorry that everything was spoilt. What happened was unacceptable," Papazov said.
Levski recorded its seventh defeat in the Adriatic League, losing 98:66. The team is due to be hosted by Metalatz (Serbia) on November 22.