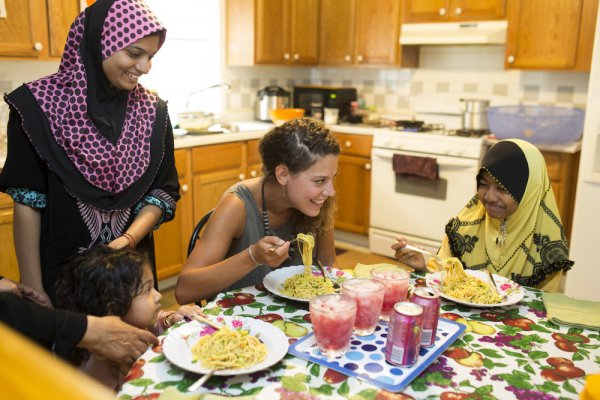 Athens, May 23, 2016/Independent Balkan News Agency
By Spiros Sideris
Temporary housing for refugees involved in the resettlement program in other European countries, but also to vulnerable asylum seekers, offering an agreement that was signed by the United Nations High Commissioner for Refugees and the Thessaloniki municipality.
"This agreement comes to show how good cooperation between UNHCR and the local authorities in Greece deliver concrete, positive solutions for refugees", said the statement by Philippe Leclerc, representative of the United Nations High Commissioner for Refugees in Greece, calling significant the contribution from the municipality to meet the target of 20,000 hospitality positions.
The agreement is the seventh such cooperation concluded by the UNHCR in Greece, in support of the efforts of the Greek government to provide assistance to refugees.
"The program will provide decent living conditions and social support to hundreds of refugee families and benefits for the local community and economy", said the Mayor of Thessaloniki Yiannis Boutaris.
Through the agreement will soon be created 660 new accommodation places (through 600 rental apartments and 60 through host families) for refugees who have applied to relocate to another EU country and for vulnerable asylum seekers.
Under this program, the Thessaloniki municipality will work with neighboring municipalities, such as Neapolis-Sykies and Kalamaria and with partners (ARSIS Greek Council for Refugees, Greek Union for Human Rights, PRAKSIS, X.A.N. Thessaloniki B.C. ).
The efforts of UNHCR to provide new housing locations throughout Greece for asylum seekers is the main program objective which began earlier this year, with EU funding and has already delivered more than 5,500 slots in Greece.
The UN agency is ready to provide support for the operation and other, larger housing sites, as recently established in Lagkadikia in Northern Greece. This particular area has almost reached its maximum capacity of 1,000 people.
Of the nearly 6,000 people who have benefited so far from the resettlement program in Greece, over 900 have been relocated to other countries in Europe.