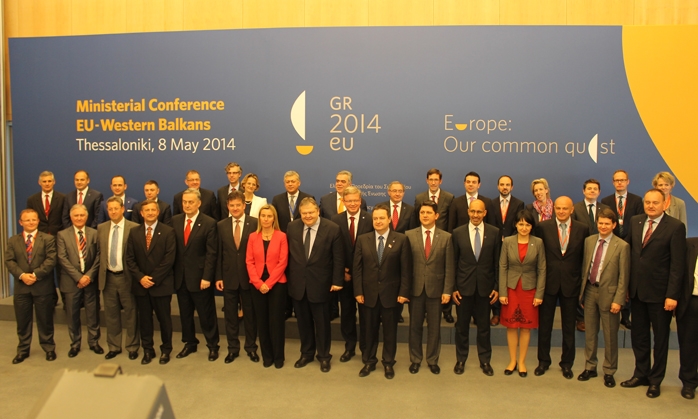 Tirana, May 9, 2014/Independent Balkan News Agency
Under the auspice of the Greek presidency of the EU, the Ministerial Conference "EU-Western Balkan" was held yesterday in Thessalonica. The May 8 conference reconfirmed the support of the member countries for the continuation of the enlargement process in the Western Balkan region. This conference has brought to the attention the achievements of the Thessalonica Summit of 2003, which reconfirmed the arrival of the region's countries to the EU.
During this conference, Albanian Foreign Minister, Ditmir Bushati stopped on the importance that the European perspective has for the West Balkan countries. He stressed that "by giving these countries the perspective of a joint future, the process of European integration encourages the sense of regional collaboration, good neighboring relations and inclusiveness".
During the conference, minister Bushati said: "It's important for the enlargement process to be credible, sustainable and to come out with predictions, in order to give life to the process of normalization and regional collaboration."
The dynamic of enlargement, said minister Bushati, must be based in two basic principles and stressed: "The strengthening of regional cooperation must be synchronized with a clear European and Euro-Atlantic perspective of the entire region; and the need for a process oriented toward projects of an economic and regional impact".
Minister Bushati pointed out that for Albania, the perspective of European accession acts as an irreplaceable encouragement for the reforms which aim at changing and modernizing the country and improving the life of the citizens.
He underlined the achievements of Albania, as far as fulfilling the criteria for the candidate status of the country is concerned. He expressed his conviction that they will also be acknowledged by member countries in the EU Council meeting in June, where Tirana is expecting to receive a positive answer after 4 consecutive refusals.
During the conference, Greek deputy prime minister and Foreign Minister, Mr. Evangelos Venizelos, Enlargement Commissioner, Stefan Feuele, Italian Foreign Minister, Federica Mogherini and other participants said that EU enlargement policy is not part of the problems that member countries face, but part of their solution.
This policy has kept Europe safe and peaceful and has transformed and modernized former communist countries, by offering to citizens peace, freedom and prosperity.
Those who delivered speeches in the conference praised the progress made in the European agenda of each of the Western Balkan countries and analyzed the challenges that the countries of the region face as far as the rule of law and respect of human rights is concerned.
The participants said that Western Balkan countries have achieved a clear European perspective.
In spite of the achievements, the participants of the Conference said that it was important to find new ways in order to further encourage the European agenda of the region and to make its impact concrete in the life of the citizens of Western Balkan. This agenda of integration must be enriched with EU backed projects and private investors. In this aspect, the participants highlighted projects with a regional impact such as corridor 8 and 10, TAP and IAP projects. /ibna/