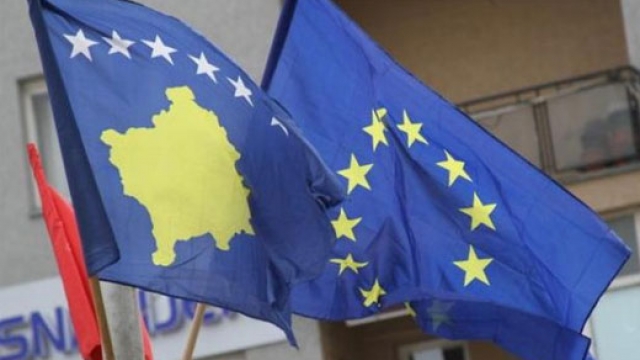 IBNA Special Report
Pristina, December 2, 2014/Independent Balkan News Agency
By Elton Tota
Kosovo's government has officially declared that the Stabilization and Association Agreement will be signed in 2015, while its ratification by the 28 EU member countries will take place in the following year. Kosovar analysts say that this process is impossible because there are still five other EU countries who have not yet recognized the independence of Kosovo.
Professor of European law, Avni Mazreku told IBNA that the ratification of SAA will not happen unless Kosovo's subjectivism is not contested by the five EU countries.
"Countries within the European Union, agree in a consensual way. SAA with Kosovo must be ratified by all EU member countries and it's enough for a state to use its veto in order to block the entire process", says Mazreku.
For the director of "Rockefeller Brothers" Trust for Western Balkan, Haki Abazi, Kosovo has wasted its chance to ask from the EU be treated as an equal party at the moment that it started negotiations with Serbia.
Meanwhile, law professor, Fatos Rushiti told IBNA that the member states will not block the ratification of SAA.
According to him, Kosovo will not have difficulties in this process. He believes that the blockade from those states which have not yet recognized Kosovo will come at the end of this process, once accession talks start.
Erza Pula, from the Group for Legal and Political Studies, says that SAA will bring long term benefits to Kosovo.
According to her, if the government of Kosovo offers good political and economic policies, the Stabilization and Association can help in the long term, to make progress in the domain of economic development and reduction of unemployment.
"Such agreement will open the market in the long term. This means that this is a better opportunity for Kosovo's producers to launch and export more of their products", says Pula.
SAA was offered to Kosovo by Brussels after the former finalized several reforms, considered short term. Meanwhile, the political decision of the EU member countries to launch SAA with Kosovo was taken after Kosovo was assessed to have played a constructive role in the talks with Serbia.
Association and Stabilization Agreement consists of the first step that countries go through in their long journey to becoming an EU member. /ibna/