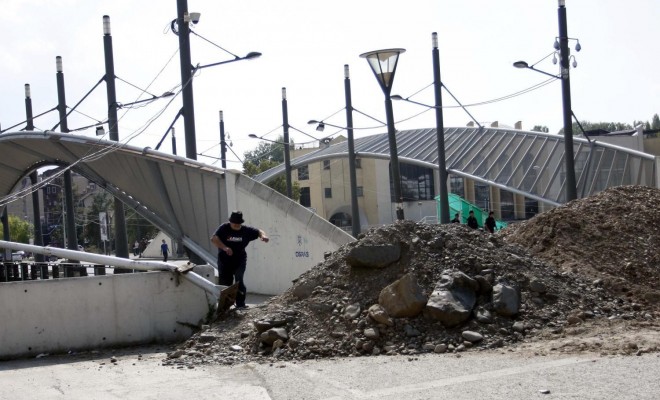 Mitrovica, March 27, 2014/Independent Balkan News Agency
By Elton Tota
Mayor of Northern Mitrovica, Goran Rakic has refuted today's meeting with his counterpart from the south, saying that the barricade on the main bridge will not be lifted for a while.
"I have not received any invitation for a meeting and it's not yet time to talk about the lifting of the barricade", said Rakic in front of journalists in the north, refuting the mayor of Mitrovica, Agim Bahtiri who declared yesterday that there was going to be a meeting which would discuss the lifting of the barricade on the bridge on Iber river.
Rakic has even considered the reconstruction of 6 houses in the "Vitaku Creek" in the north, announced by Agim Bahtiri as impossible.
"I will not allow the reconstruction of homes in the territory of northern Mitrovica".
Rakic said that Bahtir's declaration is an attempt to discredit his personality as mayor of Northern Mitrovica.
"By making such declarations, Agim Bahtiri is not contributing to appease tensions. He's not even doing it by announcing tenders for the reconstruction of houses in the north and I, as a mayor, will not allow this", said Rakic.
On the other hand, Hysni Syla, head of the public information office in the commune of Mitrovica, said that the meeting which was scheduled to take place between the two mayors has been postponed by the Ministry for Communities.
According to him, the meeting will be held next Thursday at 10 am, while he said that reconstructions for the houses of Albanians in the north of the city will continue. /ibna/