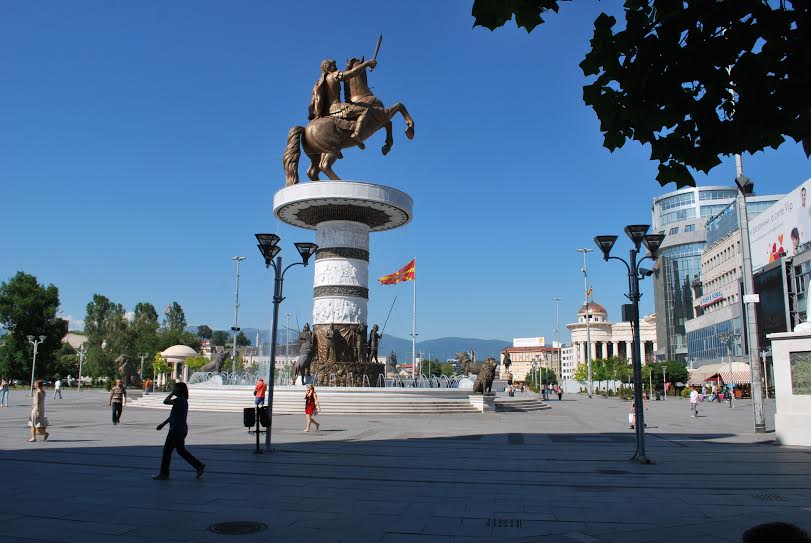 IBNA Special Report
Skopje, November 4, 2014/Independent Balkan News Agency
By Naser Pajaziti
The solution of the dispute relating to the name of the country has only remained at a level of debates and official declarations.
The name dispute with Greece which is keeping the country isolated for two decades in the aspect of European and Atlantic integration, is not even on the agenda of the opposition.
This is considered as a highly sensitive issue and the government is using this as a patriotic and nationalist issue. The government in Skopje has received criticism by the international community and is not changing its course in order to come to an agreement with the Greek side and put an end to this dispute.
Arsim Sinani, head of the Tetovo Diplomatic Academy told IBNA that no positive changes are expected and no changes are even expected in the course of the government as far as the solution of the name dispute with Athens is resolved.
"The government is not making serious efforts for the name dispute, but instead, it issues declarations which do not look serious and which do not help in the solution of the name dispute. This approach is distancing the country from its European Atlantic path and we will see these damages in the future. I personally think that this government is not ready to make a compromise about the name", said Sinani.
Professor of international law, Nikola Dukovski says that there must be serious engagement in order to convince the international community that FYROM is right about the name dispute.
"I believe that it would be best if our politicians lobby in order to make as many friends as possible among big European countries, in order for the stances of the sides to be harmonized, although there's very little time left for this until December. This is why we will not be granted a date, because the Greeks would object to this. Big things are not done over night, therefore there must be more commitment", says Dukoski.
Two days ago, Foreign Minister Nikola Popovski declared that he's not optimistic about the solution of the name dispute, in spite of the new composition of the European Commission.
"We're far from the solution of the name dispute. New developments in the diplomatic plan make us more cautious, because we have a Greek strategy which is committed in finding weaknesses in our country", said Popovski, adding that he's not expecting any new incentive or proposal for the solution of the name dispute by the UN envoy on the name dispute, Mathew Nimetz.
A new round of negotiations has been warned this month in New York, but no date has been fixed yet.
The government of Skopje has warned about the negotiations, but it said that official information will be issued once Vasko Naumovski starts his mission as the new ambassador in Washington, who will also mandated as negotiator with the Greek side. The latest proposal for the name, mentioned by several media, is "The Republic of Upper Macedonia", but this has not been commented by Skopje or Athens. /ibna/