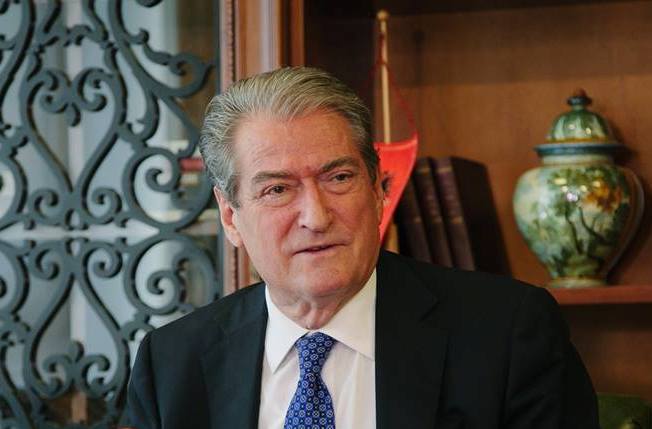 IBNA Analysis/"The intervention of the International Monetary Fund was important, but these institutions run the risk of turning into an ally of Europe's kleptocratic regime, therefore I call on them to revisit their position. They know very well what it means to find a government without economic indicators in its program and without any objective"
By Prof. Dr. Sali Berisha
For Albania, moving from the most hyper collectivist economy of Europe to private economy, where the contribution of private economy on the GDP in 1996 was 80%, consists on a great historical achievement. In a way or another, if we bear in mind international commercial obligations, we can say that market economy is irreversible in this country. In this context, the adaption of a liberal policy led to an improvement of Albania as far as the index for the freedom of economy that both institutions calculate is concerned. Albania left behind some of the most developed countries of the EU. Heritage Foundation ranks it 57th, while Fraser ranks it 43rd. But what happened and what is happening? An incredible dramatic phenomena and development are taking place. In contrast to any other country of the continent and maybe of the planet, market in Albania is facing the most cruel mafia.
***
Today, freedom of the market, economic freedom, which is in fact the foundation of other freedoms, is made a victim on a daily basis by a group of mob like kleptocrats who have brought in parliament convicted criminals, who have put these criminals in ministries and government agencies and today, businessmen are the most common victims. Every week or every other week, a businessman is executed, even publicly, in front of the cameras, the citizens, police. The gangs encouraged by the government decide competition by using their gun. And this is the most dramatic development. It has never happened in the history of Europe for a government, which has already spent eight years in office, to submit to parliament a document, which didn't have a single sentence to make it an economic program. Not a single part of the program talked about the debt, budget deficit, concrete indicators. The document seemed like an elementary school essay.
The intervention of the International Monetary Fund was important, but these institutions run the risk of turning into an ally of Europe's kleptocratic regime, therefore I call on them to revisit their position. They know very well what it means to find a government without economic indicators in its program and without any objective.
They know very well what it means for the people to give this government hundreds of millions of dollars at a time when the government doesn't comply with any rules. They know very well what it means to bless an increase of debt 3 and a half times more in a year than in 8 years in a row.
Where are we today in front of these dramatic developments. There's not even a single indicator to show that the economy is growing. Every serious indicator shows that the economy is falling. But there's one man who knows absolutely nothing about economy. Besides paints, he knows nothing else in this world, a man who tells Albanian people that their real growth is higher than their nominal growth, that the nominal growth is negative, but the real one is positive.
Why is this downfall taking place? Because the foundations of economic freedom have been shaken.
***
There's no economic freedom without legal security
Although Albania was not ranked in the first 10 or 20 countries, and in my opinion it should have been ranked thanks to its tax rates and other practices, but failed to have a level of legal security comparable to Hong Kong, Singapore, Switzerland or other countries that ranked top, Albania was improving significantly. What's happening today with legal security? It's a real mess. Don't forget about the fact that Hayek says that legal security is one of the most important factors which offers prosperity to nations. Here we have a prime minister who violates the law, Constitution, contracts and everything else. Legal security starts with the drafting of laws, the way the law is discussed, the approval of the law and the time that the law takes effect, its application, consistency of the law with the legal hierarchy, with the Constitution and the Court. There doesn't exist a government of judges. Those who believe that democracy will be brought by government of judges, they lie to themselves.
Where's economy today?
The growth is -2.5% to 3%. Why do I say this? Based on a comparison. There's been a moment when we had a drop of real growth to 0.2%. That quarter shows that nominal growth is 2% or 1.5%. Consumption of basic goods has dropped and this has raised many alarms. Four times less domestic investments than a year ago. Why? Because all procurements are made through clients.
***
It's imperative that we raise the alarm on these dramatic developments. I call international institutions in Albania to raise themselves up to the level of the responsibility of their institutions, because to offer hundreds of millions of dollars to increase the debt in an undeserved manner for a country is joint complicity with a government which doesn't respect any rules, besides the rules of the mafia.
*Former prime minister of Albania, Democratic Party MP
** The opinion of the author doesn't necessarily represent IBNA's editorial line