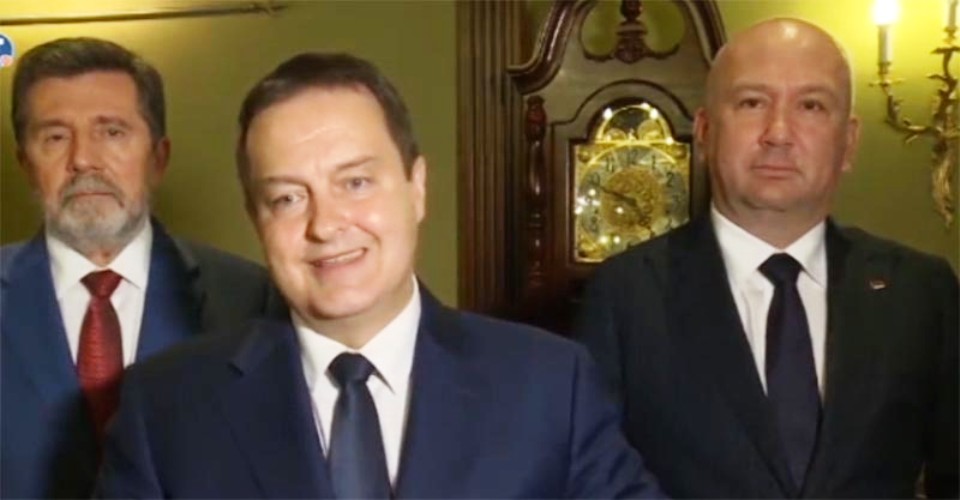 "There's big anti-Russian hysteria in the West", Serbian foreign minister Ivica Dacic said after meeting with Dmitry Rogozin, Russian deputy prime minister late on Friday. The issue at the meeting was Serbian-Russian humanitarian center in Nis, he confirmed; Serbia is under big pressure of the West over the center and the possibility of giving diplomatic immunity to Russian officials there.
In that center "there are five Serbs, four Russians, several drivers and translators and one dog", Dacic ironically echoed the previous statements of the Russian diplomats.
The decision on immunity has not been made yet Dacic said adding that Serbia would act accordingly to its own interests. "There's obviously big anti-Russian hysteria in the Western countries and everything is being interpreted as that Russia has big influence in our region. They (West) think that that influence is harmful. But I told them that we have different impression, namely that the influences of some others, from the other hemisphere, were more harmful than Russian influence, at least with regard to Serbia and Serbian people", Dacic said.
The center in Nis and industrial zones for the Russian factories in Serbia are now, in Dacic's words, "especially popular issues in the West". "The western hemisphere believes that if something is signed with the Russian Federation that would represent anti-American, anti-Western act".
Foreign minister suggested that Belgrade would make two possible decisions: give diplomatic immunity to Russian officials, or close the center./IBNA
Photo: Serbian ambassador in Russia Slavenko Terzic, Ivica Dacic and minister without portfolio Nenad Popovic