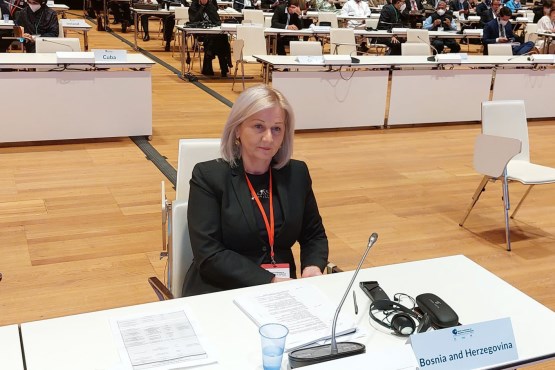 Deputy Speaker of the House of Representatives of the BiH Parliament Borjana Krišto pointed out that there are various security risks and forms of radicalization and hate speech in BiH – from BiH citizens who go to foreign battlefields and then return to the country, through daily incitement, to a large influx of illegal migrants. .
At the First Global Parliamentary Summit on the Fight against Terrorism in Vienna, Krišto pointed out that there is a problem in BiH of certain political entities that build their political rating on hate speech, the BiH Parliament announced.
She pointed out that the right to freedom of expression is one of the basic human rights, which has recently been massively abused by the appearance of social networks through the expression of thoughts, ideas, attitudes and beliefs that endanger the rights of others.
Within the framework of the Summit, the parliamentarians discussed through various panels the ways of supporting the victims of terrorism, as well as the role of the parliaments in preventing radicalization and hate speech, it is stated in the announcement.
The President of the National Council of the Austrian Parliament, Wolfgang Sobotka, and the President of the IPU, Duarte Pacheko, greeted participants on the beginning of the conference.
The first global parliamentary summit on the fight against terrorism was organized by the Inter-Parliamentary Union / IPU /.
At the beginning of the summit, in the organization of which, in addition to the IPU, the UN Office on Drugs and Crime / UNODC / and the fight against terrorism / UNOTC / were included, the Fifth World Conference of Speakers of Parliaments ended.