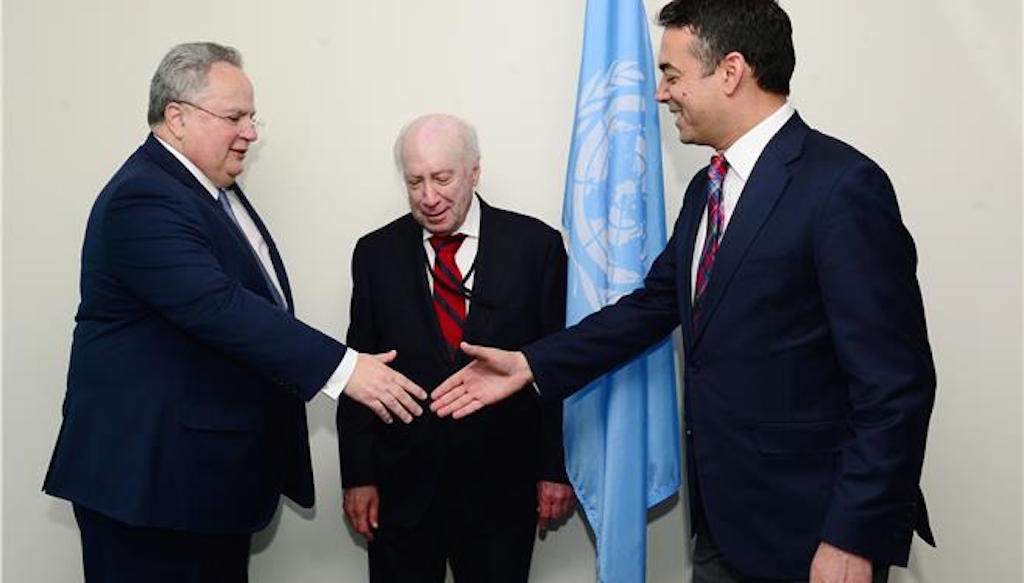 With a simple announcement, UN Special Envoy Matthew Nimetz said there are still differences between fYROMacedonia and Greece but both sides are willing to reach a solution.
"We had meetings yesterday and today, one and a half days of talks. What I can say is that the discussions were detailed, the issues are well defined and limited. We do not have a final solution to the issues, but both sides are determined to do enough to reach an agreement and work hard to do it, "Matthew Nimetz's statement said.
Nikos Kotzias and Nikola Dimitrov will continue talks in Brussels, as the EU Foreign Affairs Council will be held in the Belgian capital of Belgium among the Foreign ministers of the EU member states on May 28 . "The talks have intensified considerably, both sides have important positions and national interests at stake, but both recognise the importance of reaching an agreement and are determined to do so", Matthew Nimetz noted.
As for the upcoming meeting of Alexis Tsipras with Zoran Zaev in the near future, Matthew Nimetz replied diplomatically saying that "the two sides know each other very well. The two ministers speak often and know each other, so they will find a way to do it."
The continuation of the talks in Brussels marks the willingness of both sides to find a solution that will satisfy them both. The limitation of outstanding issues as noted by Matthew Nimetz, according to IBNA's secure information, relates exclusively to the name and use of its derivatives. For this reason, there have been elaborate and in detail discussions for each candidate name separately, so that the conclusion of the agreement will not have any 'gray areas' nor will it be a waste of time…. / IBNA