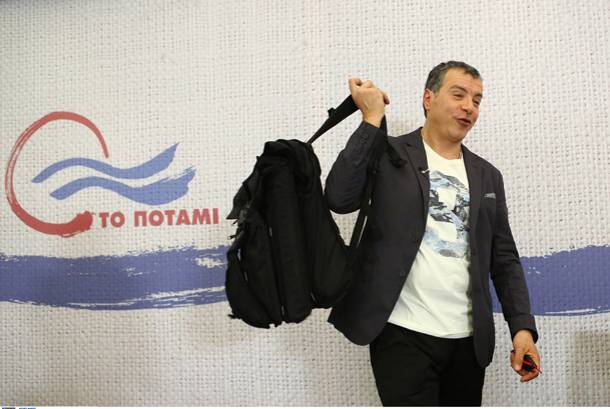 Athens, December 22, 2014/ Independent Balkan News Agency
By Spiros Sideris
"The issue is for the country to be governed. We do not want to go to successive elections. We want to govern with those who want to rule the country", said Stavros Theodorakis from Peristeri district of Athens, where he was yesterday presenting the positions of his party. The River, he said, "does not want the country to be governed with the drahma", since "the euro is law and we will not become Europe's orfan, because they want it some leftists or some fascists on the other side".
The head of the River, referring to the leader of the opposition raised the question "why doesn't Mr. Tsipras dare to keep a distance from 'mud' and populism", adding that "the sudden increase of political power creates some stability problems", while he defended Spiros Lykoudis, stressing that the River is open "to people who have not soiled themselves with the wrong government decisions and people who believe that what matters now is to unite in order to solve the problems".
He also referred to the need to get new blood in the House. "Without exclusions, we have allies and our allies will join us in Parliament", he stressed, noting that his party has 400 candidates all over Greece.
Theodorakis also opposed the "partisan armies" and and the old partisan system, noting that "even if  someone had some little confidence left in the old system, these days it should be completely shattered".
Finally, Stavros Theodorakis denounced the issue of hundreds of dead enterprises – friends of friends, who are financed by the banking system, without producing anything, costing EUR 2-3 bln, but also the persecution, as he described it, of 100,000 young educated persons in Greece, who have gone abroad because they have no alternative in their country.