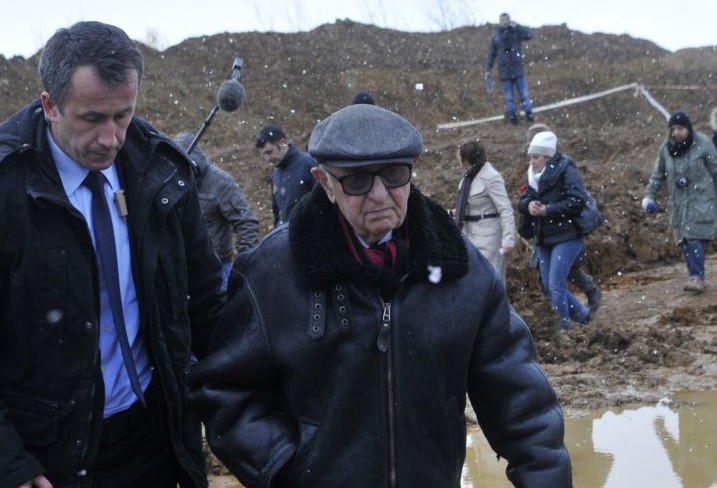 By Mladen Dragojlovic – Banja Luka
President of International criminal tribunal for former Yugoslavia (ICTY), Theodor Meron, visited on Wednesday two places in BiH where ICTY, through final judgments, confirmed war crimes against Serbs and Croats during the 1992-1995 war and paid tribute to the victims.
Meron visited a small village called Uzdol, near the city of Prozor where, in September 1993, forces of the Army of Republic BiH (AR BiH) massacred 25 Croat civilians in an operation called "Neretva 93". The war crime on this place was confirmed in the trial of the first AR BiH commander, Sefer Halilovic. It was confirmed that his forces committed this crime but ICTY didn't find solid evidence that Halilovic controlled the people who did it and he was acquitted of charges. To this day nobody has been convicted for this crime.
Several hours before this visit, Meron visited Celebici, near Konjic, where during the war AR BiH established concentration camps for Serb civilians. About 500 Serbs were detained in this camp and many of them were killed. Now, on that place is a BiH Army military barrack.
"This military barrack is an obvious reminder of the tragic past, but at the same time it is a strong symbol of endurance of the nationalities in BiH and of their enormous efforts to make progress in establishing a community in which people of all nationalities work together to achieve common goals", said Meron.
He expressed his hope that the work of ICTY will contribute to establishing a society where the rule of law will win and in which suffering like that of the victims in Celebici camp will never happen again.
Families of victims attended the ceremony in Celebici, but president of Association of former detainees RS, Branislav Dukic, refused to come and to meet with Meron. Dukic spoke to IBNA and explained that this is first time in last 20 years that representatives of ICTY visit a place of crimes committed against the Serbs.
"I received the invitation and asked from theorganizers for chance to deliver to Meron a list of concentration camps for Serbs in BiH, but it was not allowed. After 20 years ICTY confirmed that Serbs also were victims in the war, despite the fact that International committee of Red Cross registered those places. Just in Sarajevo, AR BiH established more than 120 camps for Serb civilians and only a small number survived. Also, Serbs in ICTY are sentenced on more than 1000 years of prison in total, but those who committed crimes against Serbs were sentenced on symbolic punishments or acquitted of charges", said Dukic.
He added that Meron, in his previous visits, was in Prijedor and visited a mass grave in Tomasica, but despite many invitations, he never came to Mrkonjic Grad to visit the mass grave of 180 Serbs who were killed by Croat forces.
"Also, I was detained in a former barrack "Viktor Bubanj" in Sarajevo, where more than 5,000 Serb civilians were being detained during war time. The International community was ruthless and ordered that location to serve as the principal office of BiH Court, which also tried Serbs for war crimes. It is incredible that Serbs are on trial for war crimes on the place where crimes against Serbs were committed", Dukic told IBNA.
Based on Meron's schedule, he will be in Sarajevo on Thursday to pay tribute to children killed in the city during the war.