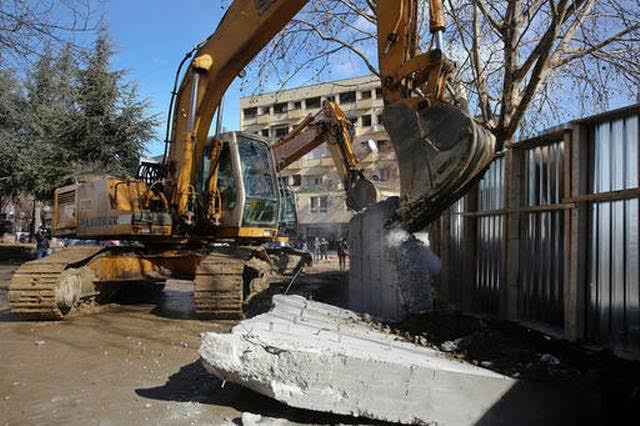 The wall which was erected last December in Northern Mitrovica by local authorities has been brought down on Sunday.
The demolition of the wall followed an agreement with the central government brokered by the US embassy to Pristina and the EU office. The head of this office, Natalya Apostolova, who closely followed the works for the demolition of the wall, said that this showed that both sides "can come to an agreement when there is political will".
The EU head of foreign affairs, Federica Mogherini said that leaders of Kosovo and Serbia have proven to be courageous and visionary.
"The constructive engagement that we have seen in the last two meetings of the dialogue in Brussels has yielded results and this shows that only dialogue and political leadership can bring good things. Leaders in the region have shown their courage and vision, by bringing down walls and focusing on the construction of bridges. This is the result of the spirit of dialogue brokered by the EU for the normalization of relations between Pristina and Belgrade", Mogherini said.
Prime Minister of Kosovo, Isa Mustafa declared that after the demolition of the wall, this part of the square will be adjusted in line with the law and urban planning that exists.
"All we have done is solve a domestic problem through domestic authorities and with the support of the international community. We were not in a race to show our strength. I think that values and the best democratic methods have prevailed", Mustafa said.
The mayor of Northern Mitrovica, Goran Rakic has warned that on Tuesday, 7 February will mark the start of the construction of "a concrete supportive structure", which according to him, "will guarantee safety for the citizens of Northern Mitrovica".
"The new structure will meet the environmental and esthetic aspect of the project for the construction of the pedestrian area in King Piter street", Rakic said.
The wall in Mitrovica was built last year, at a time when the revitalization of the bridge on Iber River had started.
Tension between Kosovo and Serbia grew at the start of the year, following the arrest in France of the former PM of Kosovo, Ramush Haradinaj, based on an arrest warrant issued by Serbia and after the departure of a train from Belgrade to Pristina with provocative messages written on it. /balkaneu.com/