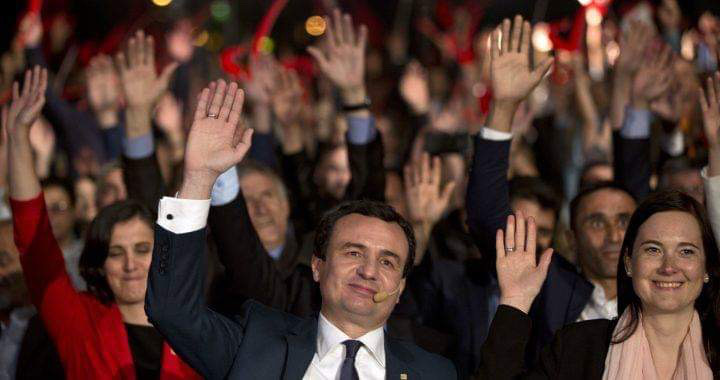 Early parliamentary elections were held peacefully and democratically in Kosovo on Sunday.
According to preliminary data, the Vetevendosje Movement won in this election, with a slight margin from the Democratic League of Kosovo.
With 90 per cent of the vote counted by the State Election Commissions, the Vetevendosje Movement received about 26 per cent of the vote, the LDK 25 per cent, the PDK 21 per cent, the AAK-PSD 11.6 per cent. The Serb list won the majority of votes in Serb-inhabited municipalities.
The Vetevendosje leader and candidate for prime minister, Albin Kurti said that as of Monday he will start efforts to form the new Government.
Kurti called the victory of the Vetevendosje movement historic.
"The Vetevendosje movement is the winner of these election. We saved the Republic from state capture. What happened today is an interference in our political scene for this drama to come to an end, thus saving the state from the politicians," Kurti stated.
Further, Kurti who is nominated by his party for prime minister, pledged his Government will fulfil all the promises made during election campaign. "I will do the outmost for the next legislature to form the Government as soon as possible. Talks on new government coalition will start as soon as possible. We will implement all the promises we made," Kurti said.
He said he would prefer to govern with the Democratic League of Kosovo, the party which will have a large number of deputies in the Kosovo Parliament.
Vjosa Osmani, candidate for prime minister running for the Democratic League of Kosovo (LDK), was not ready to accept defeat in Sunday's election saying that they will wait for all the votes be counted by the Central Election Commission (CEC) reminding that the diference of votes is narrow with the Vetevendosje leading with only four thousand votes. She thanked the LDK supporters for participating in the election and for as she said overthrowing former ruling parties from power. She said that after the final results of the election the LDK is ready to consider negotiations on potential coalition with the Vetevendosje.
"We didn't win. Citizens have given their verdict and we accept it. PDK will go into the opposition and we will continue to serve the nation and the state," said PDK leader Kadri Veseli,
The official final results are expected on October 7. The turnout was 44 percent, a slight improvement on the previous election two years ago.
Some 1.9 million people were eligible to vote. 120 lawmakers were elected in what was Kosovo's fourth parliamentary vote since it declared independence from Serbia in 2008.
The elections took place after a campaign that was dominated by issues of corruption, high unemployment, and a possible peace deal with Serbia that would clear the way for Kosovo's membership in the United Nations./ibna