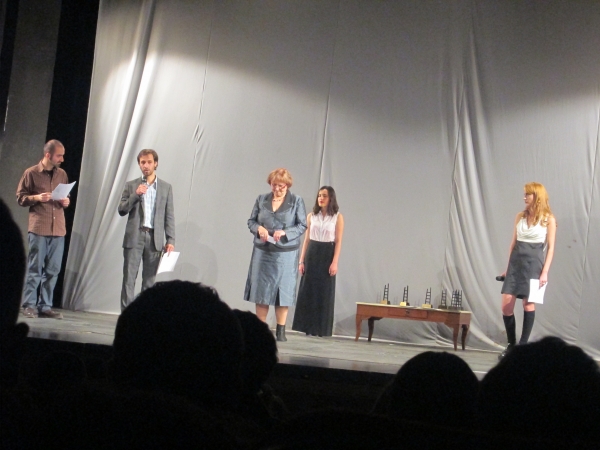 Pristina, December 8, 2014/Independent Balkan News Agency
By Elton Tota
A show from Kosovo and a film from Mexico snatched the main awards of the 12th edition of the international student movie and theater festival "Skena UP".
The experimental performance called "Crave", which talks about homosexuality, pedophilia, discrimination and violence, produced by Astrit Ismaili, were given the award for the best show.
The combination of a theater of a different genre, where there's harmony and lack of harmony, physical changes in an hour performance, brings different experiences.
The movie called "The Last Veil", produced by Luis David Palomino Benitze, which talks about the majority of people in undeveloped countries, in this case, Mexico, was awarded the prize for the best film. This film features the character of a girl called Citali, who suffers from an illness which can be treated in time and she's sets out in search of the remedy.
The award was handed by the American dramatist, Harold Apter. Along with him on the scene, were also the Kosovar producer, Kaltrina Krasniqi and writer from Albania, Natasha Lako. But, no one was present to receive the prize. Meanwhile, the award for the best show was handed out by Fjolla Krasniqi, who along with the Romanian actor, Catalin Jugravu and actor and musician, Dirk Rademacher, comprised the jury of the theater.
"For the harmonic ensemble and the display of emotions with a great courage", was the verdict of the jury.
Meanwhile, the best actor of the festival was chosen Dardan Gashi. Dirk Rademacher got on the scene to hand out the award for the best actor.
"Adriana" award for the best actress was handed out by the director of "Dodona" theater, Agron Shala. The award was given to Shirin Farshbaf Shotorbani form the show "Remember me" from Iran. This show was also awarded the special jury award. /ibna/