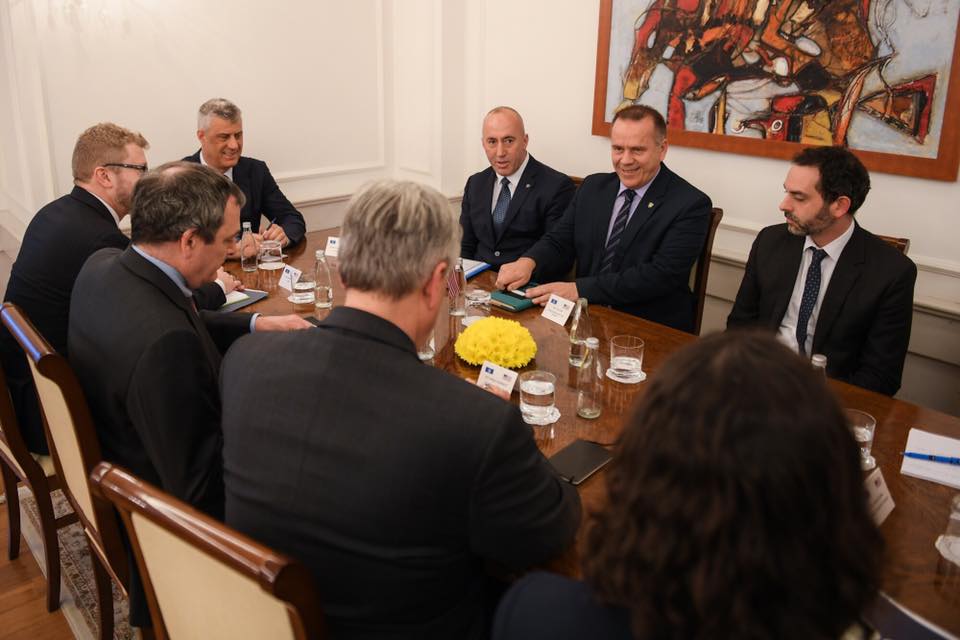 Two senior US officials from the National Security Council, John Erath and Brade Berkley have held meetings on Wednesday afternoon with state leaders in Kosovo.
In the meeting with president Hashim Thaci and PM Ramush Haradinaj, the two US officials have demanded the suspension of the tax and the continuation of dialogue for the normalization of relations with Serbia.
"The senior US officials have reiterated the position of the US administration that the US tax must be suspended in order for dialogue to continue and for Kosovo and Serbia to reach a deal with each other", President's Thaci statement reads.
He said that state institutions must take concrete action in line with the suggestions made by US partners.
"These decisions should aim at preserving and strengthening strategic cooperation with the US and should reflect our commitment for dialogue and a peaceful agreement", the president of Kosovo added.
On his part, Kosovo's PM, Ramush Haradinaj said that he has assured the two US officials that Kosovo will preserve friendship with the US.
The government of Kosovo issued a press release stating that during this meeting, PM Haradinaj has underlined that "Kosovo is ready to sign a legally binding agreement which results in the recognition of Kosovo with its existing borders. Kosovo is also ready to assume all of its responsibilities stemming from membership in the NATO, UN, EU and other international organizations. /ibna/