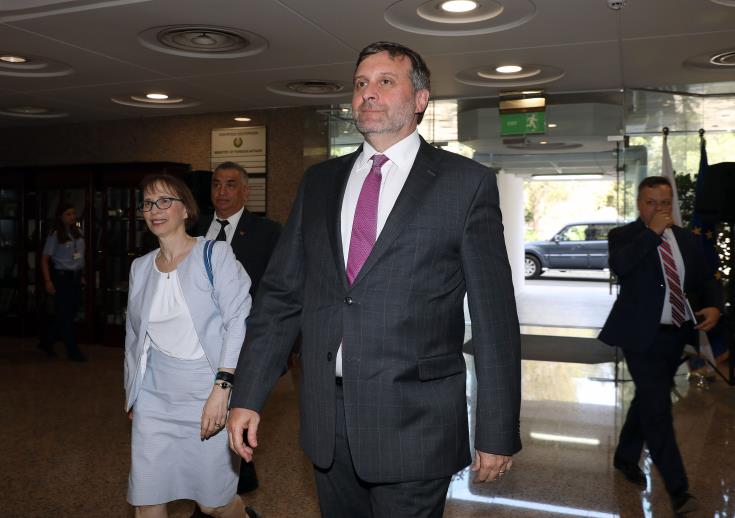 It contributes as a mechanism to the stability of the region, the common opinion of Anastasiades-Palmer
By Michalis Michael
The President of the Republic of Cyprus, Mr. Nicos Anastasiades, received today at the Presidential Palace the Deputy Assistant Secretary of State, Mr. Matthew Palmer. After the meeting, the Government Spokesman, Mr. Prodromos Prodromou, told reporters that "a comprehensive review of US-Cypriot relations has been made, with an emphasis on their upgrading in recent times. Turkey's illegal activities in the Cyprus Sea and the EEZ of the Republic of Cyprus were discussed in particular, and Mr Palmer reiterated the US position in favour of the sovereign rights of the Republic of Cyprus, underlining that Turkey should avoid these illegal activities, a position for which the President of the Republic expressed his satisfaction and gratitude."
The meeting discussed the whole range of the bilateral relations, as well as the special interest of the USA in the operation of the 3 + 1 mechanism, i.e. the tripartite Cyprus-Greece-Israel with the participation of the USA as a mechanism contributing to the stability and security in our region.
The progress in the attempt to lift the embargo was also discussed, as was the resulting new relationship between the US and Cyprus. Also discussed were the economic relations and the significant prospects  that exist for enlargement and deepening of these relations, as well as energy cooperation through the major companies active in the Cyprus energy program, and the American interests in the region.
Anastasiades asked the US to also influence Turkey
The Cyprus problem could not be absent from the discussion, with the President of the Republic of Cyprus reiterating that all this previous period, as he is now, he is ready for the talks to begin again, provided, of course, that the illegal activities and provocations of Turkey stop, and that, unfortunately, during this whole period the Turkish side was reluctant to reopen the negotiations.
They discussed the various aspects of the resumption of negotiations and we must note that Mr Palmer, having lived and worked here in Cyprus in the past, is well aware of the various aspects of the Cyprus issue.
Nicos Anastasiades has asked that the US also contributes so that Turkey is influenced, in order for the negotiations to begin again.
When asked if the UNFICYP issue was also discussed at the meeting, the spokesman said that "reference was made during the general discussion on the Cyprus problem. All aspects of the Cyprus issue were discussed."/ibna