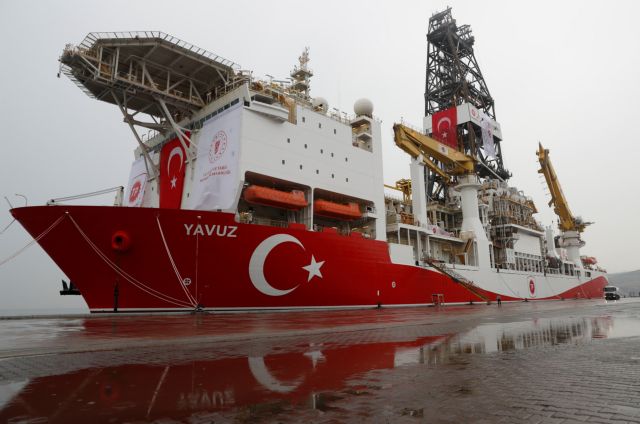 The Greek Foreign Ministry also condemns the attempted illegal drilling
By Michalis Michael
Deep concern for the Turkish attempts to carry out drilling off Karpasia expresses the US, with a written statement of the State Department spokesman, Morgan Ortegus, calling them a "provocative step."
"The United States remains deeply concerned by the repeated efforts of Turkey to conduct drilling operations in the territorial waters of Cyprus, and most recently with the movement of the ship Yavuz off the coast of the Karpasia Peninsula. This provocative step creates tensions in the region," says the State Department spokesman in a statement, calling on the Turkish authorities to stop these operations.
"We encourage all parties to act with restraint and refrain from actions that increase tensions in the region," says Ms. Ortegus, stressing that the development of energy resources in the eastern Mediterranean should promote cooperation, increase the dialogue between the two communities and between the regional neighbours and provide the basis for sustainable energy security and economic prosperity.
"We continue to believe that the oil and natural gas resources of the island, like all its resources, should be allocated fairly between both communities in the context of a comprehensive settlement," concludes the statement of the State Department spokesman.
The Greek Foreign Ministry
The condemnation of the attempted illegal drilling of Turkey in the EEZ of the Republic of Cyprus also expressed the Ministry of Foreign Affairs of Greece.
In a statement, the Greek Foreign Ministry states that "this illegal action defies international law, the Law of the Sea and the condemnation of the international community, while it is a further escalation that undermines the stability and security of the eastern Mediterranean region."
At the same time, it is underlined that "Turkey's provocative behaviour at the expense of the sovereign rights of an EU Member State is a far cry from the conduct that a candidate country should have and reaffirms the validity of the European Council's decisions of 20 June, regarding appropriate measures against Turkey."
EU sanctions
At the same time, Nicosia awaits a tangible response from the EU as well. A number of information has come to light about the actions of the EU, which, yesterday, through the High Representative of the Union, Federica Mogherini, sent specific messages.
The cutting of community funding for research by up to EUR 145.8 million for 2020 and a re-review of the European Investment Bank's financing and investment operations towards Turkey are among the measures that the Commission and the European External Action Service (EEAS) will present to the representatives of the EU Member States./ibna