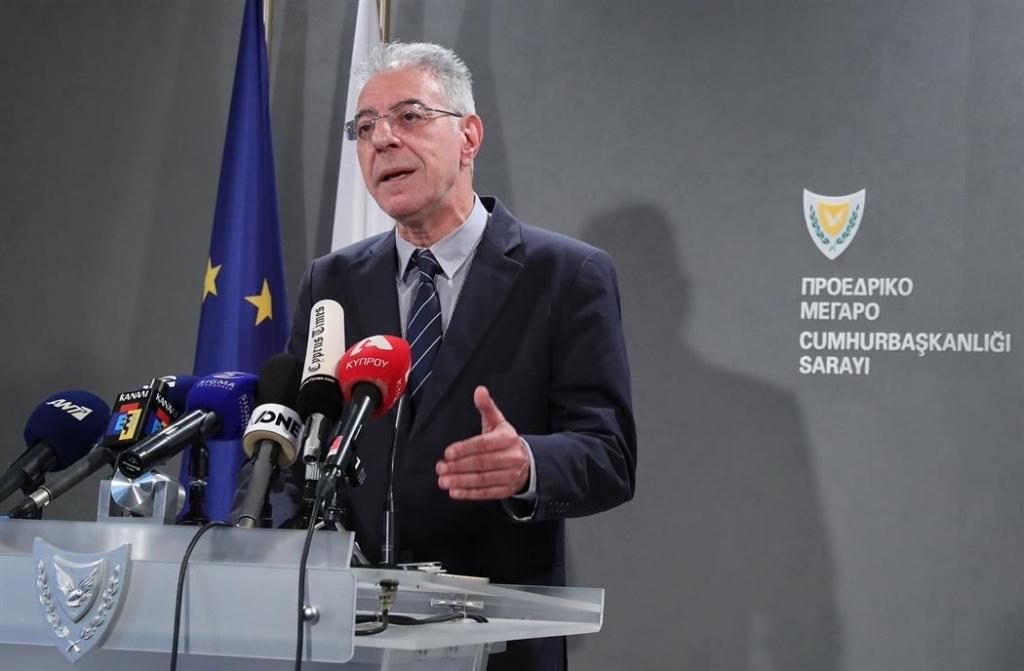 Statements of the Cypriot government spokesman on what will follow
By Michalis Michael
The UN Secretary-General told the Cypriot President yesterday that a joint meeting of himself with President Anastasiades and Mr Akinci could be organized for September in New York, after the UN General Assembly, stated today the Cypriot Government Spokesman Mr. Prodromos Prodromou.
In a statement to reporters after the Cabinet meeting at the Limassol District Administration building, Mr. Prodomou, when asked, said that "as announced yesterday, in a telephone conversation the President of the Republic had with the UN Secretary-General, from whom he accepted the telephone call, in addition to wishes for a speedy recovery, the UN Secretary-General (SG) said he was looking forward to the meeting that has been arranged between the President and the Turkish Cypriot leader.
That is where our attention lies at the moment, on the meeting that, after a long time, the Turkish Cypriot side has accepted. At the same time, the SG reaffirmed that he was fully dedicated, committed to the attempt to resolve the Cyprus problem, and to that end told the President that a joint meeting of himself with President Anastasiades and with Mr Akinci could be arranged for September, after the General Assembly and with the opportunity of their presence in New York. And since it is a proposal that the President of the Republic has already submitted- the President had suggested this to the SG when they met in Beijing- he is positively looking at this possibility. For the time being though, the positive development we are looking forward to is the meeting on the 9 August."
When asked if the meeting on 9 August will determine the next steps ahead of a possible meeting in New York, the spokesman said that on 9 August "a free exchange of views will take place, as it will be an informal meeting for the discussion of all the issues that are described as UN terms of reference, in order to pave the way for the resumption of negotiations from where we left off, with the Guterres framework as a basis. Therefore, the President will participate in the hope that all those differences, doubts, issues that have hitherto been raised, will be able to dissolve, and that we will be able to move onto a meaningful negotiation, as was the intention of the President since the day after the Crans Montana conference.
In this context, we note and consider important, that the SG rightly wants the resumption of the negotiations to be well prepared, which our side also seeks after the very negative experience in Crans Montana, where the Turkish side was not prepared to discuss some of the issues, particularly that of security, which the SG had also put forward."
Replying to a journalist's observation that in the end what the Turkish Cypriots announced regarding the inventory of properties in Famagusta was not a "firecracker", as they proceed with the registration, the spokesman said that "it is not a matter of " firecracker ", it is a pure violation of UN decisions. And, of course, these actions are part of a set of actions we have witnessed lately, which certainly do not create the atmosphere we need in order to resume negotiations. When the SG asks and expects both sides to have the volition, but that a new effort will also have been well prepared, certainly such actions go in the opposite direction. We hope that the Turkish side, in its entirety, will eventually behave in a way that will respond to the call and the will of the President of the Republic, so that we can have substantive negotiations."
To a question about the fact that several politicians in the occupied areas, and also Turkey itself, are defying the UN resolutions and decisions, the spokesman said that "we are following all developments, everything is being taken into account, but above all the President of the Republic is committed to the main issue which is, for his part, the resumption of negotiations. Only through substantive negotiations can we prevent or circumvent all that is happening from the Turkish side, be it from Turkey or the occupied area."
When asked if talks on the Cyprus issue are possible without the Turkish provocations having ceased beforehand, the spokesman said that "we will have to wait. One thing at a time. Ahead of us we have the President's meeting with the Turkish Cypriot leader on 9 August. The President has been fully prepared for some time to discuss honestly on the basis of the issue at hand, which is the negotiation, not to introduce new issues that are a hindrance, such as their efforts regarding the hydrocarbons. We are currently waiting to see what will be discussed on 9 August, hoping that the President and Mr Akinci will be able to reach a decision so that there can be a continuation of the discussions with the SG and, if necessary, with Mrs Lute, in any way that the UN judges to be appropriate."
Lastly, replying to a question as to whether there could be a five-day meeting, while Turkey continues its provocative actions and the Republic of Cyprus calls for the imposition of sanctions from the EU, the spokesman said that "the Republic of Cyprus does not ask for sanctions, the EU has already made its decisions. However, your questions are hypothetical. At the moment, the SG expects both sides- both sides include Turkey- to create the right atmosphere, to prepare for the resumption of negotiations. This is the goal of the Secretary-General, and the President of the Republic has the same objective."/ibna